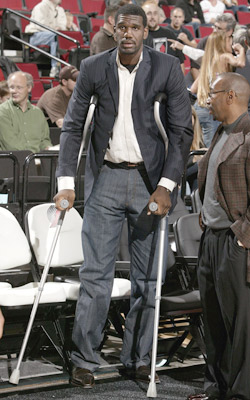 Greg Oden's latest microfracture surgery on his left knee is another in a long line of injuries, whether he is injury prone or not.
Posted by Matt Moore

With the news that Greg Oden is out for the year, it's time to take stock of the inordinate number of injuries the young man has unfortunately suffered during his basketball career. This is not in regards to further ellucidating his supposedly fragile state, but simply to give perspective to the unfathomable string of bad luck or unavoidable damage he has incurred, depending on which side of the "freak accident vs. fragile body" side of the aisle you happen to sway to. What follows are just some of the injuries Oden has suffered in his basketball life.
In sixth grade, Oden underwent surgery to repair his hip . Following the surgery, one leg was then longer than the other, resulting in his unusual gait which is often misstaken for a limp.
His senior year of high school, Oden underwent surgery to repair a torn ligament in his wrist , an injury that kept him out until December for his freshman year of college, after which he helped push his team to the NCAA Championship Game, only to fall short.
On September 13th, 2007, during preseason before his rookie season, he underwent microfracture surgery to repair his right knee. He would miss the entire 2007-2008 season.
He recovered from that and 2009-2010 was set to be his year. He was looking very much like finally the player he was supposed to be. Then on December 5th, 2009, he landed without contact on his left leg, and badly fractured his left patella . His recovery was projected to take him right up until training camp of 2010.