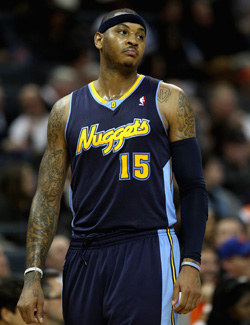 As reports surface that Carmelo may still be amiable to the Nets, we ask the question: should the Nets be amiable to Melo?
Posted by Matt Moore


UPDATE: Now that the Nets
have acquired two more picks in order to try and sweeten the deal
, the Nets have commited themselves fully to this enterprise. In doing so, they're hedging more of their future on trying to land the forward All-Star, while a source told CBSSports.com's Ken Berger, "they can't get it done." The Nets are like that business owner who's staff is revolting and isn't turninga profit but keeps trying to buy expensive new curtains instead of changing the product to try and lure customers. The crusade continues. At this point, even if they are able to force a trade through, you have to wonder what they're going to be surrendering in terms of future assets.
Reports
have come tumbling in
with the tumbling tumbleweeds that the Nets are not out of the
Carmelo Anthony
race. They remain interested in the acquisition of Melo, and officials have met to discuss the matter.
Here's the thing.
They shouldn't be.
(For more on the Melo situation with New York,
read Ken Berger's latest update
.)
That ship has sailed, and it's time to move on for the Nets. At this point, New Jersey isn't just trying to jam a square peg into a round hole, they're trying to stuff $17 million in there as well. The problem that exists now isn't one of a deal. It's not about trying to convince Denver to take
Derrick Favors
, two first round picks, and whatever leftover assets they want thrown in. That's not the problem here. It's a problem. It's just not the problem. No, instead, New Jersey is trying to acquire a star that doesn't want to play for them. And if you don't have a star for more than five months, you don't really have a star to start with.
Throughout this process, Carmelo Anthony has maintained the inside track on the steering wheel of this vehicle (I'm mixing metaphors; roll with it; I'm doing it again). He's been in control the entire way in terms of directing how this thing has been led. If Anthony had decided that Newark, and later Brooklyn, was the right place to plant his flag for the new empire of Melo, all he would have to do is inform Denver that was the case, that he would not re-sign in Denver, and they would likely start extorting the most assets out of New Jersey, including possibly a series of brand new Yo! cars. (Note: They could not actually trade for Yo! cars. But if they could, you can bet Donald Sterling would be dishing for one, possibly in exchange for
Eric Gordon
.)
What's missed in this situation, as it was in LeBron's situation, is how easy it is for Melo to decide it. Sure, Denver holds his rights, and can ship him off to basketball Siberia if they want (say hey, David Kahn). But they won't. Because doing so damages relations with the next star they try and acquire. It damages relations with all of Carmelo Anthony's agent's clients (and that's a list of people you don't want to alienate). And it damages their relations with their current players who wonder if the same will happen to them. It's not plausible. So you try and make the best of the situation, get what you can, and go forward.
But Melo hasn't done that. He hasn't assented. He's remained on the fence. He's seeing three teams (at least) jostle and struggle and bend over backwards trying to acquire his services. He's holding his own in-season version of what LeBron did for two weeks in July, holding court. He's just doing it behind the scenes. And he knows where he wants to go. There could be somewhere else he wants to go. But there's not. Because if there was, he'd be there by now.
Meanwhile, the Nets are hijacking themselves, their season, and their future, trying to figure out how to get Melo. Guys know they could be moved at any time, as soon as Melo gives his OK to an extend-and-trade to New Jersey. But what's worse is that the way that the Nets are still showing interest in a player who isn't 100% interested in them. This isn't to say that players don't change their minds when they arrive somewhere. But it is to say that if you want to build a championship team, you need leadership that wants to take your team,
your team
to the title. And Anthony at this point is looking for a comfy situation where he can get good endorsement deals. It's possible that in two years, the Nets will be in a position to offer that. But they can't now.
Finally, this could end up being a blessing in disguise. In 2012, under whatever bizarre new CBA world we're living in, the following players could be free agents:
Chris Paul
,
Derrick Rose
,
Dwight Howard
,
Russell Westbrook
, and
Kevin Love
, among others. While pulling Derrick Rose out of Chicago would require a pretty big crowbar, Paul and Howard have both shown reticence to commit to a team that won't contend. Westbrook may eventually tire of being Robin to Durant's Batman, and Kevin Love ... well, Kevin Love plays for the
Timberwolves
.
There are other options out there, and perhaps by that time, with the team in Brooklyn (no offense to the Garden State), and a more established hierarchy of who to build around, the Nets can move forward. Right now, they're trying to force their way into a superstar's heart. You have to take your opportunities where you can find them. But you also can't force the hot person to date you when they seem so interested in flirting with your sibling.
Time to walk away, comrades.