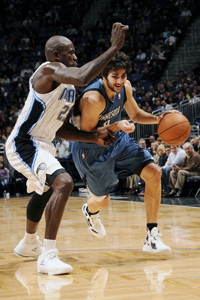 Ricky Rubio is getting a lot of body from defenders.
(Getty Images)
By Matt Moore
When Ricky Rubio was drafted, the questions were about how he would deal with the tougher defense of the NBA. Not in terms of acumen, the Euro leagues provide plenty of defense. But the players are so much bigger, so much more toned, so much stronger, that his wispy frame was considered an issue. Then he came over and lit the league on fire and it wasn't considered an issue. But it's gotten tougher and tougher as the season has gone on, and now the Wolves have decided to pull the "mom who finds out her son is being bullied and goes to the principle" approach.
Wolves president of basketball operations David Kahn said the team has sent video to the NBA , seeking to call attention to what Kahn and the team's coaches believe are opponents being overly physical with rookie guard Ricky Rubio.

The team sent many examples of what it deems are fouls never called against defenders who have decided the best way to play the skinny rookie is to muscle him.

"All our young guys are learning that, Ricky especially," coach Rick Adelman said about opposing defenses adjusting to stop the Wolves' offense. "They're putting bigger guys on him...They're beating the hell out of him right now. The league has figured out you have to be physical with him. And he's kind of learning on the fly.''
via
Wolves send Rubio footage to league, looking for some protection | StarTribune.com
.
Thing is, that's what parents should do. Will it bring more
Heat
on the kid in the short term? Sure. But in the long-run it's better to establish an awareness of the issue. They should notify school officials. It's certainly true that kids have to stand up for themselves, but to make sure situations don't become dangerous, they need to give the school a heads up it's a problem.
That said, this is just part of it for Rubio. It's not like it's significantly impacted his game, and he's still producing, the Wolvesare still winning. But he's going to see more and more of this. He's made a name for himself, and teams will target ways to stop that. The easiest way is to attack him physically. Rubio won't get special treatment, but it may help in cutting off excessively hard fouls that could cause injury.