The Oklahoma City Thunder and Memphis Grizzlies face off in the first Game 7 of the 2010-2011 NBA Playoffs. Posted by Ben Golliver.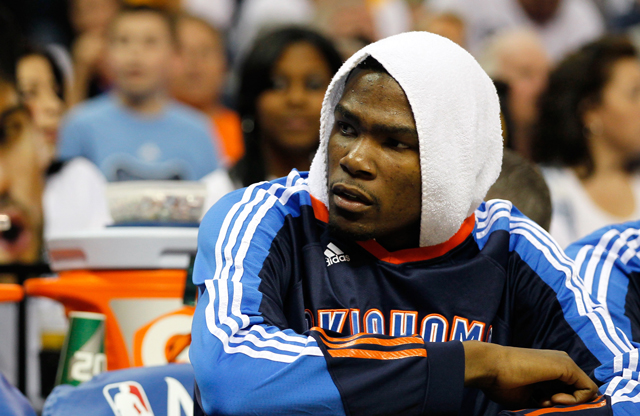 One Big Thing:
More than any other series, the Thunder-Grizzlies one has been about giant swings in momentum, emotion and energy. After an exhausting triple overtime in Game 4, the Thunder ran the Grizzlies out of the building in Game 5. In Game 6, the Thunder collapsed after halftime, looking out-of-sync and lethargic as the Grizzlies put the hammer down. Game 7, then, is simply about who has more left in the tank. With home-court advantage and an edge in overall talent, that should be the Thunder.
The X-Factor:
Thunder forward
Kevin Durant
, the league's best and most consistent scorer, sure picked a bad night to have his worst performance of the season. His
season-low 11 points
in Game 6 was troubling because he appeared openly frustrated -- both by the aggressive Memphis defense he's been facing and with teammate
Russell Westbrook
's decision-making.
Durant was sensational in closing out the Denver
Nuggets
in the first round, and an approximation of that performance should be enough to send the Thunder through to the Western Conference finals. If he no-shows again, though, Oklahoma City will find itself in a situation where Westbrook feels like he has to carry the entire burden. That's never a good thing. There are no excuses in a Game 7. Coexisting with Westbrook, the harassing defense and fatigue must become non-factors. Durant is staring at a legacy-impacting game and he needs to step up.
The Adjustment:
Before Game 6, I noted that Memphis needed to get back to what it does best: force-feeding
Zach Randolph
. It was better for the Grizzlies to go down doing what they do well than to go down doing what they do poorly. The flip is now true for Oklahoma City. If they're going to get eliminated from these playoffs, they need to force someone (anyone!) besides Randolph to send them packing.
Oklahoma City must double Zach Randolph early and often. It doesn't have to occur on every touch but it needs to happen a lot more than it did in Game 6, when Randolph went off for 30 points and 13 rebounds in 40 minutes. Yes,
Nick Collison
and company have done an excellent job handling Randolph in this series and they've gone above and beyond in doing their best to neutralize him on the glass. But Memphis simply lacks the floor-spacers to make the Thunder pay for over-committing to Randolph. If nothing else, daring
Mike Conley
to shoot at every turn would be a significantly better strategy than letting Randolph work one-on-one. Conley has shot just 9-for-40 in the last three games combined, including just 3-12 from downtown.
The Sticking Point:
Westbrook has become a lightning rod for criticism in this series thanks to his shot-jacking (17.8 field goal attempts per game), his turnovers (3.7 per game) and the Thunder's stagnation during critical late-game stretches that has produced a lot of one-on-one play from Westbrook and a lot of standing around from Durant. In the big picture, that Westbrook has already accomplished so much so early in his career is remarkable.
But this is not the time for Westbrook's supporters to be preaching patience, lest an opportunity be lost. Despite their youth, Oklahoma City is just five wins away from the NBA Finals and, when they're clicking on offense, they have the potential to be a legit title contender right now. Game 7 should be a good window into whether Westbrook and company are happy with what they've accomplished or are motivated enough to make some adjustments (better ball movement late in games, better shot selection, a bit more care with the ball when things break down in the halfcourt) so that they can move on to the next step.