Posted by
Ben Golliver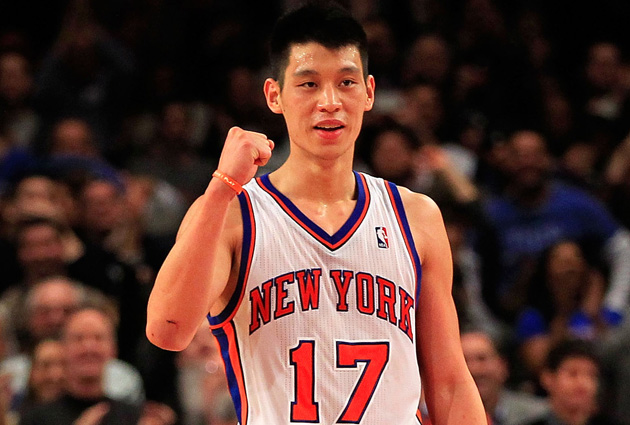 Jeremy Lin discussed the bias he faced from talent evaluators during All-Star Weekend
(Getty Images)
ORLANDO --
Jeremy Lin
knows
exactly
how much he was overlooked.
"I think ESPN had me as the 467th best player out of 500 or something like that coming into the season," Lin said, speaking in front of a standing room at Amway Center on Friday night.
Lin, a Taiwanese-American, said that he believes that a biased perception of Asian-American athletes was a contributing factor in his being underrated by NBA talent evaluators during the last few years.
"I think it has something to do with it," Lin, who was undrafted out of Harvard in 2010 and cut by both the Golden State
Warriors
and Houston
Rockets
this season, said. "I don't know how much. But I think just being Asian-American, obviously when you look at me, I'm going to have to prove myself more so again and again and again, and some people may not believe it."
Preconceived notions about his race, Lin said, choosing his words carefully, might even have influenced the language used to describe his skillset.
"I know a lot of people say I'm deceptively athletic and deceptively quick, and I'm not sure what's 'deceptive.' But it could be the fact that I'm Asian-American. But I think that's fine. It's something that I embrace, and it gives me a chip on my shoulder."
The media contingent began arriveing more than a half-hour before Lin's press conference, which was televised live on NBA TV. Unlike the other participants in the Rising Stars Challenge game, Lin did not conduct interviews following Friday morning's practice. Instead, he filled 10 rows of chairs in Orlando
Magic
coach Stan Van Gundy's Amway Center press conference room, with reporters hugging both walls as well. Eventually, the doors were closed and media members were turned away due to a lack of space.
Lin went on to state that the doubts about his abilities continued into his tenure with the New York
Knicks
, where he has become a breakout star since moving into the starting point guard role. He confirmed reports that he had attended a group chapel service with a number of fellow NBA players and admitted that he had prayed that he wouldn't be released before cut day, as his contract was not yet guaranteed.
"I went to chapel with
Jerome Jordan
and
Landry Fields
and the chaplain asked us to share a prayer request," Lin remembered. "I knew February 10th was right around the corner, so that was what was on my heart. Just that I would be able to continue to stay on the roster and be with the team the rest of the year. So that's kind of what I shared with the group of guys."
The prayer, he said, was the result of feeling as if getting released would put him at a crossroads.
"I really didn't have a Plan B to be honest... I was thinking about three main options: overseas, D-League or to just take a break or give up basketball for awhile. And I just didn't really know. I was just trying not to think about it basically. I just said, if I get cut by the Knicks, then I'll take a look at all that, but until then, I want to make sure I try to stay focused and not think negatively.
That prayer session probably feels like years ago to Lin, who currently ranks in the top-20 in player efficiency in the NBA. Nevertheless, his frugal lifestyle remains the same.
"I'm still a minimum guy," he said quickly when asked if he had "splurged" on anything recently. "That hasn't changed."