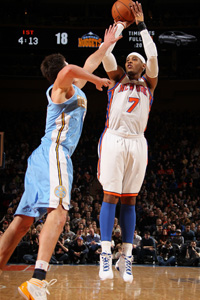 Carmelo has said he'll fit in fine with Jeremy Lin. I guess we'll find out soon.
(Getty Images)
Posted by Royce Young
Jeremy Lin seems to have overcome potentially the first obstacle in toning down Linsanity as he and
Amar'e Stoudemire
appear to be getting along quite well on the court.
It's the next addition back to the
Knicks
lineup that people are worried about. But
Carmelo Anthony
wants you to know something: He's not selfish.
Via ESPN New York
:
"That's like a slap in the face," Anthony said during an interview with Stephen A. Smith on SportsCenter on Wednesday night. "None of my teammates I've ever played with would say that I was a selfish player. Nobody."

[...]

"It's a tough situation. I'm human at the end of the day, so it's like damn, where is this coming from?" Anthony said. "I know I'm not a selfish player. People around me know I'm not a selfish player. I do everything I can to make people around me understand I'm not a selfish player."
I think there's an easy distinction though between "selfish" and "someone who likes to shoot and have the ball in their hands a lot." Selfish means you're just out there for yourself and your own numbers. I don't think that's ever been Melo. The guy wants to win. He wants to be a good teammate. But in his mind, the best way for him to do both of those things is to shoot and score a lot.
For example, what about Lin's game-winner? What would've happened if Melo were on the floor too?
"Of course I want to take the last shot, let's be quite frank: I've been doing for nine years already, and I've made a ton of them," Anthony said.
And that's where some fear a problem will arise. Not that Lin has become some alpha dog closer because of one shot or a couple good games, but will Carmelo's desire to own the ball late completely disrupt the New York offense? It's a legit question.
Here's the thing: Lin would be the first guy to tell you that he doesn't really want to be averaging 25 points a game, nor should he be next to Melo and Stoudemire. He wants to be a good point guard that leads a winning team. Much in the way he did in New York's 100-85 win over the
Kings
where Lin dished out 13 assists. In fact, that's exactly what he said after last night's game.
"I think it's my job to get people in rhythm and get people scoring," Lin told reporters. "Hopefully, especially when Melo comes back, another lethal scorer, my shots will go down and my assists will go up."
Melo is a bit of a ball stopper, which is why he's never exactly fit into Mike D'Antoni's pick-and-roll oriented offense. Melo likes to catch the ball and work his own move, isolated from the offense. It's something he's absolutely terrific at, but not something that necessarily fits the players and coach he's playing with. So that's going to be the challenge for him. It's not selfishness. It's fit.
There are going to be some growing pains and some fit issues, but that's natural. I would advise everyone to not freak out if after a couple of games it's not going perfectly, but come on, we know that's not going to happen. It's the vicious cycle of the media hype game. Something gets built way up and then we just wait for it to come crashing back down. Unfortunately for Melo, if that happens, he might be shouldering the blame.