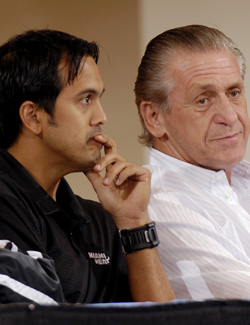 Miami crowd chants for president, former coach Pat Riley as Spoelstra's Heat struggle through loss again.
Posted by Matt Moore
In the midst of the Heat's latest embarrassing loss, this time to the Blazers, the Miami Heat crowd turned on the home team pretty hard. While attendance wasn't stellar, lacking as it has all season, those in attendance became restless as the Blazers kept the lead by following up Heat runs with definitive performances from its whole team, especially the bench.
The result? Miami's crowd joined the throng of people nationwide claiming that the Heat would be better off with their president as coach rather than Erik Spoelstra. From
ESPN's Tom Haberstroh
:
Yep. "We want Riley" chants at AmericanAirlines Arena. Heat down 9 with just under 7 mins left.
It's too late for Riley to step in -- way too late. He's been too far removed from the coaching decisions for most of the season and on top of it, he's made it clear his heart's not in it. This isn't 2006. While the Heat could use a coach of Riley's mold in terms of his ability to motivate superstars and manage the X's and O's, it's just past that point. They're locked into Spoelstra, for better or worse.
But the fans do have a point. It's not just the inability of Spoelstra to make the obscene amount of talent he has mesh. It's the lack of focus and the simple breakdowns. Defensively, turnovers, you name it, the Heat lack a mental edge. And that falls on Spoelstra. Riley is a known quantity, he has been at that level. But the biggest reason for a Riley return is a little more complex. Riley has coached great big men. Erik Spoelstra has never coached a great big man, and his work with
Chris Bosh
and
Joel Anthony
reflect that.
It's a bandwagon fanbase in Miami with the current pricing structure after the formation of the Triad. And those chants will keep coming as long as the Heat are losing.