Miami Heat forward LeBron James missed practice on Thursday due a shin bruise. Posted by Ben Golliver.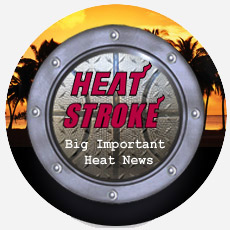 LeBron James and the Miami Heat have been kicking the living tar out of the NBA -- going 4-0 in the last eight days -- so it's only natural James has come down with what
ESPN.com is calling
a "deep right shin bruise." The bruise kept James from practicing on Thursday, however Heat coach Erik Spoelstra is not terming James' bruise an "injury,"
according to the Sun-Sentinel
. Rather, the decision to hold James out was precautionary, as the Heat play an away-and-home back-to-back on Friday and Saturday against the New Orleans
Hornets
and the New Jersey
Nets
. While the Heat already destroyed the Nets 101-78 last Sunday, the Hornets game is shaping up to must-see TV. Under new head coach Monty Williams, the Hornets are off to a scorching, undefeated (4-0) start. James's close friend, all star point guard
Chris Paul
, has returned to form after dealing with injuries last year, averaging 21.3 points, 6.3 rebounds, 9.0 assists and 1.8 steals to start the season. The Hornets have knocked off at least three (and possibly four) playoff teams, defeating the Milwaukee
Bucks
, Denver
Nuggets
, San Antonio
Spurs
and Houston
Rockets
, but they haven't seen anything like the Heat, who have accumulated an ungodly 22.8 point margin of victory during their current four-game winning streak. James is expected to play Friday, non-injured shin bruise and all.