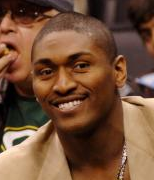 Posted by Royce Young
Ron Artest
is promoting the
Lakers
upcoming exhibition schedule by making the rounds to nearby cities, one of them being San Diego. And while there, he had an idea for a trade. But it didn't involve any players.
Via the OC Register:
"Maybe we can swap, the Chargers for the Clippers. No disrespect to the Clippers. You can have them back. I don't mean that in a disrespectful way. I really like the Clippers, but I feel they deserve their own fan base because in L.A. they're overshadowed. The Clippers deserve a shot at having their own identity."

Some might take that as a dig at the Clippers, but it's nothing but truth. The Clippers are basically a team without a city. They're stuck somewhere where they're perpetually playing second fiddle to the Lakers. For instance, when I write "Staples Center" who do you think of?
It's a simple (unrealistic) thought, but it makes loads of sense. Los Angeles wants a football team. The Clippers want a fanbase. Ron Artest: a man with solutions. He should run for Congress or something.