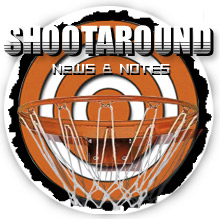 Posted by Royce Young
Joey Graham is making friends in Cleveland: ''He'll be in the rotation for a little while,'' Cavs coach Byron Scott. ''I wanted to try something different. With Joey, I know I can get some scoring in the post. He's kind of made his living there.''
Cole Aldrich is blogging for Dime : "Someone asked me the other day to compare Coach Brooks and Coach Self. I would say the main thing that sticks out is both of their philosophies are defensive-minded. If you look at the teams that have won NBA championships, they were strong defensive teams like Boston and the Lakers. In terms of differences, Coach Brooks is probably a slight bit more laid back than Coach Self. He always expects a lot out of you, and he'll get after you a little more."
J.R. Smith is losing his role to Gary Forbes: "I think J.R. knows exactly where we're at," Karl told The Denver Post Wednesday. "I think right now, it's J.R. and me, and I think J.R. should understand what's going on. I've got a kid playing better than he is playing. And I don't have minutes to share."
Eddy Rivera of MagicBasketball on Orlando's win: "There was no one from Phoenix that could slow down Howard, let alone stop him, so they were forced to double-team him nearly every time he touched the ball in a 4-out/1-in offensive set. This forced Howard to be a passer and, aside from a few turnovers here and there, he was able to spur some ball movement. Perhaps the one thing to takeaway from Howard's performance on offense was that he was able to make two jumpshots on the left elbow with the third quarter winding down."