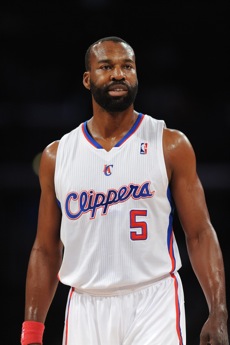 Posted by Royce Young
How's this for something different:
Baron Davis
is being sued allegedly firing a "dirt clod" at a paparazzo's face. Evidently it all went down at Kate Hudson's
place, if that makes this all a little bit more ridiculous.
TMZ has the details:
The photog -- not our guy -- claims he and a pack of shutterbugs were "legally standing on public property" outside of Kate's L.A. home back in 2008 when Kate and Baron arrived.

According to the suit, the photog claims Baron, "apparently unnerved by the media attention, picked up a dirt clod and threw it" ... striking the pap in the face and eyes. The photog claims he suffered some serious damage to his eyeball -- and wants Baron to fork over more than $25,000 to make things right.

Oh brother. Just as we were all getting excited about Baron tossing oops to
Blake Griffin
, now the easily distracted one has a distraction.
But seriously paparazzi guy, $25,000? For some dirt in the eye? I kind of thought that sort of stuff came with the territory in a job where you're always annoying people and sticking a camera in their face. But that's just me.
Via PBT