LeBron James and Dirk Nowitzki still dwell on their NBA Finals losses. Posted by Ben Golliver.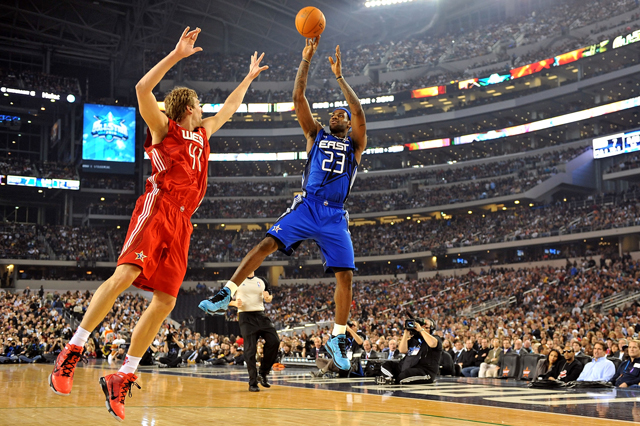 The 2011 NBA Finals features a match-up between arguably the two best players in the NBA yet to win a title: Miami
Heat
forward LeBron James and Dallas
Mavericks
forward Dirk Nowitzki.
While neither has won a ring, both have had a chance before. In his second NBA season, James, just 22 years old, led the Cleveland
Cavaliers
to the 2007 NBA Finals against the San Antonio
Spurs
, where he was promptly swept out. The previous year was Nowitzki's title shot: The Mavericks lost in six games in the 2006 NBA Finals to the Heat, then led by
Dwyane Wade
and
Shaquille O'Neal
.
Memories of coming up short on the big stage all those years ago still haunt both players.
The Associated Press reports
that James regularly watches tape of the 2007 sweep to motivate himself.
"I think about it all the time," James said of that 2007 series. "I even go back and watch some of those games and see how I wasn't that good of a player, especially on both ends of the floor. You just try to use those moments. I feel like there's no way I should be out on the floor and the team that I'm on can't win a game in a series. I use that as motivation. … I've got a lot of motivation."
Hoopsworld.com
--
citing a Dan Patrick Show interview
-- writes that Nowitzki says he has taken the opposite approach, refusing to watch the tape. But he still remembers every detail of the loss vividly.
"Honestly, I've never went back to watch those games," Nowitzki admitted. "I think I would just be so sick to my stomach so I decided shortly after to never watch those games, but I still have a lot on my memory. Trust me. Game 5 down the stretch, we go up by one. Then, they get two free throws to win it and I kick the ball. I mean, all sorts of stuff is still on my mind. Five years ago seems like a long time, but some of the stuff is still fresh on my mind."
The differing approaches to the film study makes sense. James and the Cavaliers simply weren't ready yet and they got taken apart in surgical fashion. When James watches the tape, he likely sees a younger version of himself making all sorts of mistakes he wouldn't make now. For Nowitzki, the Mavericks and their fanbase, the tapes from the 2006 Finals are far more tortuous, as many still believe the officiating played a key role in determining who won that series. Nowitzki doesn't have the luxury of watching an unfinished version of himself losing to a clearly better team. There's no question Nowitzki is a stronger, better all-around player today than he was five years ago. But if he were to watch the 2006 tapes he would still be watching a very similar, already mature version of himself collapsing in four games straight.
To boil it down: James isn't really in a position to regret what happened in 2007. Nowitzki certainly is in that position with regard to 2006. That both get a chance to put their past failures behind him and redefine their historical NBA identity is probably the single best reason to watch the 2011 NBA Finals.