With Melo "thinking" about the Nuggets' extension offer, could the CBA pressures of a lockout be forcing Anthony to consider staying in Denver?
Posted by Matt Moore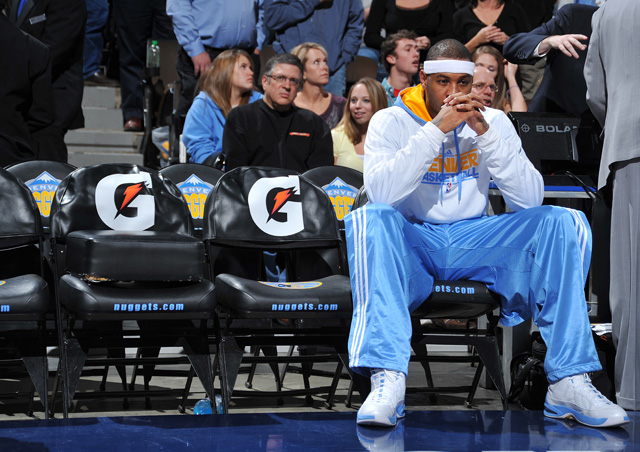 Ken Berger of CBSSports.com reports
that
Carmelo Anthony
has told told Nuggets
management that he's "thinking" about signing their long-term extension
which would keep him in Denver for the majority of the remainder of his career. It's a striking change in direction from Melo's behavior and statements over the past six months, all of which has led him away from Denver and towards the bright lights of another, bigger market.
So with that in mind, why the change in heart? Melo maintains that this has been his approach the whole way through, but multiple reports have indicated he was most likely done in Denver. So what has pushed him back towards the shade of the Rockies?
There are multiple options. The struggles of the Miami
Heat
have to be considered, even as the Heat start to get together. The fact that a deal with New York, his preferred destination, is unlikely
even if they manage to get a first rounder in return
for
Anthony Randolph
probably has to dishearten him from the idea of moving. The fact that the New Jersey
Nets
are locked into Newark, NJ for two years instead of Brooklyn, and that they look so far away from contending has to factor in, as they are the most likely destination for a trade at this point. But the biggest reason is probably relatively simple.
Money.
Since this whole bizarre non-standoff-standoff started, the CBA talks have only headed faster towards a lockout brick wall. The owners won't even respond to the Union's latest proposal. A lockout is 99% probably according to Union head Billy Hunter. And considering the drastic changes being presented by the owners' contingent, big changes could be in place before Melo could sign a new deal. With that in mind, Anthony could be thinking he simply needs to go ahead and commit to the deal to get in place.
KB also clued us in recently that the owners
are seeking rollbacks to current contracts
. That would mean that any deal Melo signs now could be revamped to something lower in total dollar amount. But that's an issue of contention and there's at least a reasonable chance the union could fight off that attempt. So signing the extension now rather than carrying out his threat of not signing without a trade and risking a significant loss in salary.
A source told Berger in October that
Melo wasn't afraid to test the new CBA
. It could be that the way the talks have gone have Melo convinced the smart play is to at least heavily consider getting his deal locked in now.
But of course, that's conjecture. The facts still remain that Melo has not signed the extension, nor has he given any indication that he intends to, only that he'll think about it. And in the meantime, he's put more pressure on teams interested in him to up the ante on their offers. The disclosure is good news for Denver, but doesn't get them out of the woods. They still have to win games this year, convince Melo they have a plan to win in the future, and get his name on the dotted line.
This thing's far from over, but at least Denver has reason to feel more positive about their odds of avoiding a long-term rebuilding project.