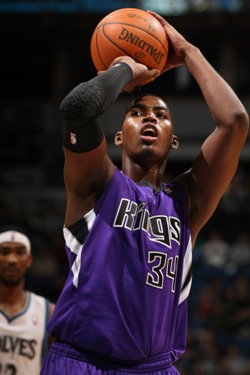 Posted by Royce Young
Over the weekend,
a report came out
saying that the
Hawks
had shopped backup point guard
Jeff Teague
. And Monday,
ESPN.com's Marc Stein tweeted an addendum
to that saying that the
Kings
offered
Jason Thompson
to the Hawks for Teague, but Atlanta turned down the deal.
Well, what do we make of that?
The first thing to note is that obviously the Hawks think highly of Teague.
Mike Bibby
is 32 and will likely be moving on from Atlanta in the near future. So the Hawks clearly feel like second-year guard Teague is capable of being their leading man at the point. Because look at what Atlanta has in its frontcourt currently.
Josh Smith
and
Al Horford
are nice in the starting five, but behind them it's
Zaza Pachulia
,
Josh Powell
,
Etan Thomas
and
Jason Collins
. I think that's the opposite of depth.
If you look strictly at numbers, it's easy to question if Teague will be ready for that. He averaged 10 minutes a game his rookie season and is seeing 15 minutes a night this year. His numbers are low (4.5 points and 2.5 assists per game) but at times, he passes the eye test. He's athletic, strong and lightning quick. If the Hawks wanted to fully translate into a transition, breaking team, Teague might be an ideal candidate to fill the point spot there.
But then again, is he worth turning down Thompson? Just a season ago, some saw Thompson as one of the absolute steals of the 2008 draft as he was turning into a nightly double-double candidate. He's 6'11, just 24 years old and can easy defend both the 4 and the 5. He averaged 28 and 30 minutes a game his first two season in Sacramento, but because of the addition of
DeMarcus Cousins
along with
Carl Landry
and
Samuel Dalembert
, is being crowded in the King frontcourt as he's seen his minutes dip to around 15 a night.
The trade would be role player for role player, but Teague would certainly have a chance to compete for the starting spot against
Beno Udrih
in Sacto. And Thompson wouldn't start over Smith or Horford, but he'd absolutely provide much needed frontcourt depth in Atlanta, something that's valuable against the likes of the
Magic
,
Celtics
and
Bulls
.
Yet, the Hawks turned down the deal. If you were show me this potential trade and ask who I thought would have turned it down, I would've said the Kings, no doubt. But they were the ones willing. Either Jeff Teague has a lot more upside than most of us see, or Thompson isn't worth giving up a young asset for. It's probably a combination of both.
The message is clear to the other 28 teams though. If you want Jason Thompson, come and get him. Make Geoff Petrie an offer and who knows, it could very well be good enough. For instance, would Sam Presti be willing to help his
Thunder
frontcourt by offering up
Eric Maynor
for Thompson? That's one thought. And one call that could be made. Thompson is up for grabs. He'll likely be moved before the deadline. Just not to Atlanta evidently.