Posted by
Ben Golliver.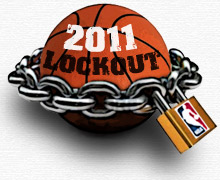 CBSSports.com's Ken Berger reports
from New York City that labor talks between the NBA and the National Basketball Players Association have wrapped up after more than four hours of negotiations.
Both sides addressed the media, with the NBPA going first.
Berger reports that NBPA president
Derek Fisher
said
during a Friday afternoon press conference
that although the meetings were "engaging" the two sides "did not come out of here with a deal today, but we will be back here at 10 a.m."
Talks are expected to continue on Saturday and Sunday.
Asked if a deal will be reached this weekend,
Fisher said
: "I can't answer that."
The Philadelphia Inquirer reported
that Fisher said that "no formal proposals [were] exchanged" on Friday and that talks were "contentious" at times. The paper also noted that Fisher said that the NBA did not threaten to cancel the entire 2011-2012 NBA season if no deal was reached this weekend.
NBA commissioner David Stern and deputy commissioner Adam Silver addressed the media following the NBPA press conference.
"There's no bad news," Stern said
according to Berger
. "Both sides expressed a willingness to make a deal."
Berger reports
that Stern, who
acknowledged
that no formal proposals were exchanged, said that both the NBA and NBPA "agreed that once regular season games lost, both sides harden."
Asked if he can see a framework of a deal,
Stern said
, "We leave that to the bloggers." If no deal is reached this weekend,
Silver said
that talks between the two sides would "of course" continue.
NBA.com reported
that Stern made public some details of the league's new revenue sharing plan for the first time. Under the proposal presented by Stern, revenue sharing among owners would quadruple within three yeras after tripling in the first two years.
Finally,
Stern said
that
a report
that the season could be canceled if a deal wasn't reached this weekend was "ludicrous."
During the NBPA's press conference, Fisher was flanked by a cadre of NBA All-Stars including Miami
Heat
forward
LeBron James
, Heat guard
Dwyane Wade
and New York
Knicks
forward
Carmelo Anthony
. Other players present,
Berger reports
, include Boston
Celtics
forward
Paul Pierce
, Philadelphia
76ers
forwards Elton Brant and
Andre Iguodala
, and Cleveland
Cavaliers
guard
Baron Davis
.
Berger also reports
that Heat forward
Udonis Haslem
left the meeting saying that he was "very encouraged" and that "you can see that everybody really wants to make a deal."
This post will update with the latest NBA lockout news.