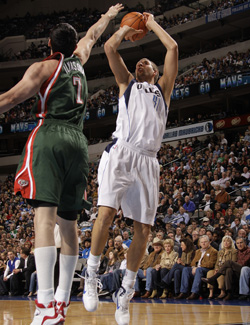 Bucks take down Mavericks to end their win streak.
Posted by Matt Moore
There will be no joy in Dirkville, mighty Nowitzki has bricked out.
The Mavericks lost for the first time in 13 games, this time to the Bucks as they failed to capitalize on a game the Bucks just about handed them. This after the Bucks ripped it away from Dallas to begin with. Dallas led by nine at the half, before the Bucks took the lead, up nine with three minutes to go. But a furious run by the Mavericks featuring a brilliant one-touch pass from Dirk in transition to
Jason Terry
for a corner three cut the lead down to two.
Brandon Jennings
rushed a step-back two with eleven seconds left on the shot clock which gave Dallas a chance. But Nowitzki couldn't convert in a rare clutch miss for the
early-season MVP candidate
, and the Bucks
hung on 103-99
.
Boston now has the longest winning streak in the league at 10 wins in a row.
Milwaukee badly needed the win, their third in a row, and needed to get their offense going. With both Jennings and
Andrew Bogut
scoring 20-plus and the Bucks dropping in a 114 efficiency mark, it's at least a step forward for the worst offense in the NBA. The loss will also do nothing to dispel the notion that Dallas still lacks the defensive acumen to compete in the playoffs. In truth, Dallas had the
fifth best defense
in the NBA coming into tonight. Just one of those nights, across the board, and an end to the win streak. During the streak, Dallas outscored its opponents by an average of just under nine points per game.