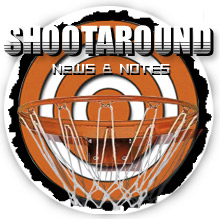 Posted by Royce Young
Joe Maloof finally spoke publicly about potential relocation: "It's not for the mayor or anybody (in the City of Sacramento) to interfere with our business. That's what I think they're doing, and it's not right," Maloof told The Orange County Register. "We would appreciate that they not interfere with our business ... That letter is completely wrong, and it was uncalled for – below the belt – and it's a shame it had to come out of his office," Maloof said. "We tried to be classy and not get in arguments in the media, but I (have to) make this comment. We will continue on with our business and do what is best for the viability of the franchise – what's best for the franchise and what's best for the league."
Alan Hahn of Newsday: "Desperation turned into inspiration. And inspiration produced Carmelo Anthony's most impressive performance since he arrived in New York more than a month ago. Anthony, who earlier in the day called the game a must win, scored 39 points to lead the Knicks to a 113-106 overtime win over the Magic Monday night at the Garden. It snapped their losing streak at six games and was their second win in 11 games."
Mike Bresnahan of the Los Angeles Times: "There were plenty of blunders earlier this season -- and, yes, some as recently as last month -- but the Lakers finally see something ahead of them. It's not the finish line. It's the staggering San Antonio Spurs. The Lakers suddenly have a Texas-sized carrot in front of them for their final nine games: San Antonio is down to a 31/2 -game lead atop the Western Conference after another loss Monday."
Mike Wells of The Indianapolis Star: "I'll ask this question for the second time in as many games: Have you seen a more confusing team than the Pacers? They looked bad in losses to Sacramento and Detroit, but then they go out and beat the Boston Celtics on Monday. Go figure."
The Lakers should have the tiebreaker over the Mavs if they tie.
Darnell Mayberry of The Oklahoman: "Kevin Drurant already taken seven more 3-pointers this year than he did last season. And there's still 10 games left to play. AND if he plays each of the remaining 10, he'll still be four shy of last year, when he played all 82 games. The numbers have been shocking. He seems to have diversified his game much more in his fourth season. But his 3-point attempts are staggering."