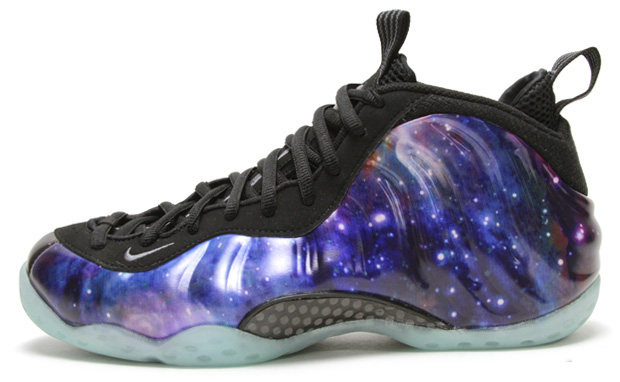 The Nike Foamposite One Galaxy shoes caused a riot? Really?
(NiceKicks.com)
The 2012 NBA All-Star Weekend got started off on the wrong foot Thursday night when what has been described as a small riot broke out at a shoe release for the Nike Foamposite One Galaxy at a mall in Orlando. The release was not associated with the NBA in any way, but Nike had obviously planned the event around All-Star Weekend, and things got scary eventually. From CBSNews.com:
The Orlando Sentinel reports the crowd was asked to wait across the street when the mall closed. However, one person ran toward Foot Locker and others followed. Authorities formed a line and use shields to protect themselves and push back the crowd.Store employees became concerned and called 911.

"I saw hundreds of people running toward me. I thought I was going to get trampled," said Amanda Charles, 20, who was among a group of a half-dozen friends who drove from Jacksonville to try to buy the glow-in-the-dark Nikes.Witnesses said more police officers quickly arrived, decked out in riot gear and fortified by still more deputies on horseback, on motorcycles and in patrol cars. A helicopter with a spotlight hovered overhead."

Due to the overwhelming turnout at the midnight shoe release, and with everyone's safety in mind, Foot Locker canceled the shoe debut," Florida Mall General Manager Lydia Gilmore said in a statement.

Nike followed suit by canceling the shoe release at several stores."Due to safety concerns, we are canceling the All-Star releases this weekend at the following Foot Locker House of Hoops stores: Florida Mall, Pembroke Mall, University Mall in Tampa, Southlake Mall and PG Plaza. Our priority is the safety of the community," Nike said in a statement.
via
Nike Air Foamposite One Galaxy shoe release
Spurs
riot at Florida mall - Crimesider - CBS News.
Well, that's totally insane.
NiceKicks.com reports that the shoes have
a listing for $70,000 on eBay
, and that
there's a week-long camp-out
going on for them in NYC.
It's easy to get on the high horse about this; they are just shoes, after all. But it's no different than the way people go nuts over Black Friday, or a new car, or a new CD, video game, hunting gear, television, concert tickets and the like. People want things, and the want them more if they are rare, and they want them even more if they happen to devote their hobbies towards those objects. The problem is not shoes, here. It's people, and people being nuts when put into large groups with the pressure of a situation like this one.
At least the violence was contained and there are no reported casualties.
All-Star Weekend off to a great start.
(HT:
Nice Kicks
)