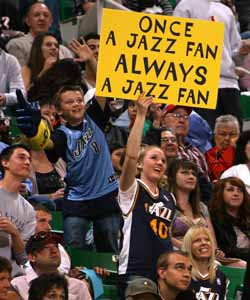 By Matt Moore
Whatever your feelings are on competitive balance, market economics, or parity in the NBA, it's hard to dispute the fact that pro basketball in certain markets is an institution. There's a million things to do in Los Angeles, a million different options of how to spend your time. New York is the cultural center of the modern world. Those cities love their teams and take pride in the teams representing their respective metropolitan goliaths. But in places like Portland and Salt Lake City, it's a different feeling. In short, the fans are completely insane. It's a way of life in those places, it's part of their heritage, it encapsulates a lot of people's lives and their families.
And both of those teams could wind up getting sold if the current trends continue.
Portland
Trail Blazers
owner Paul Allen was rumored to be pushing for a deal in pursuit of selling the team months ago, an allegation the Blazers
strongly denied
. Now comes a report from the Deseret News that the family of the late Larry H. Miller could be considering selling the
Jazz
:
In fact, one source with intimate knowledge of the Larry H. Miller Group of Companies inner workings speculated that small-market-related economic hardships could force Jazz ownership to place a "For Sale" sign on the franchise. The source told the Deseret News that the Jazz were expected to report losses in the $17 million range for the 2010-11 season.

"If I was a betting man," the source said, "my guess is that the Millers will sell the team within the next five years, unless this CBA changes the formula so that the team can make some money."

Others say the Millers will never sell the Jazz.
via
Could bad deal mean end to Jazz in Utah? | Deseret News
.
It's unfathomable to think of the Jazz being moved. They can clearly be successful, there. You have to wonder how much of this relates to overreactions to the current economic environment, and how much of it is purposefully leaked information to help in various legal and negotiating processes.
But if the group is serious about getting out of the business, it would be the cap on a depressing year for Jazz fans. They've lost the patriarch of the franchise, their coach for the past 25 years resigned, and their star player was traded before he could leave in free agency. And now there could be new ownership. The most likely scenario if they are sold is to another group out of Salt Lake that would keep them in the city. Burning down the bridge of one of the most successful small markets, the home of Stockton and Malone, doesn't seem like something the league would be willing to tolerate.
Then again, ask the fans in Seattle how that worked out.