Magic fans launch Dwight.com to try and keep All-Star in Orlando after free agency in 2012.
Posted by Matt Moore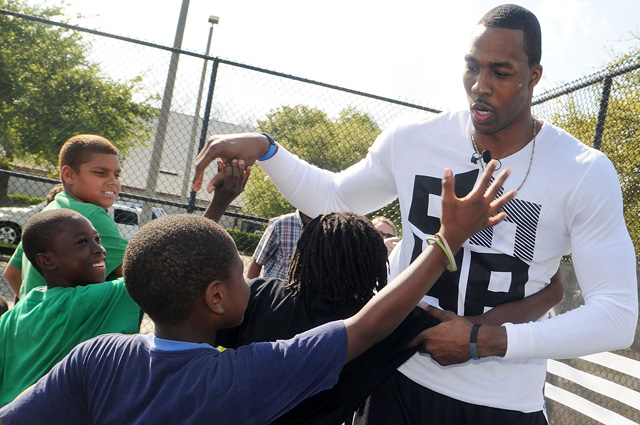 You have to give it to Orlando fans. They are getting a big head start on putting an effort forth to keep
Dwight Howard
that will only compound their disappointment and heartbreak when he abandons them for somewhere he can star in even more commercials (he will then comprise 80 percent of all television programming).
Magic fans have started
StayDwight.com
, "the campaign site to keep Dwight in Orlando where he belongs." The site is well constructed, features a lot of social media integration, encourages fan submissions for photos and videos to give their opinions. It's working in conjunction with an ad agency that donated a billboard to talk to Dwight and urge him to say when he becomes a free agent in 2012. It's a genuinely cool effort from a group of fans that have already seen what it's like to lose the franchise center to a bigger market. You have to pull for him.
The standard formula here is I'm supposed to crack jokes about how it doesn't matter. And trust me, Dwight's provided more than enough fodder for us to be cynical. He keeps talking about winning a championship without taking that responsibility upon himself. He does seem focused on his business and celebrity interests, with his movie in China, the aforementioned endorsement barrage, and kid-like demeanor which seems more and more "look at me" as he gets older and we become tired of the performance (even though he's not really doing anything different).
But the reality is we don't know what Dwight Howard's going to do. We don't know if the pleas of friends in the area will get to him. We don't know what impact his faith will have on him. His faith has always been something of crucial importance to him personally, regardless of my or your opinion of his behavior relative to its tenets. Abandoning a small market community that has embraced him as the favorite son in favor for a land filled with opulence certainly doesn't speak to those values, even if from a business perspective, the decision is clear. It's Howard's decision, not ours in the media's, nor the fans in Orlando's. He has to search through all of that experience to decide what is best for him. But an effort like this from the fans can't hurt.
But if those fans really want to be effective? They'd be better served launching "CreateAFranchiseTagDavid.com."
(HT:
PBT
)