By Matt Moore
and
Ben Golliver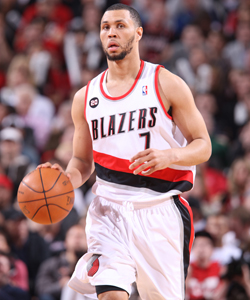 On Friday, Portland
Trail Blazers
coach Nate McMillan confirmed that guard
Brandon Roy
will pursue a medical retirement rather than play during the 2011-2012 season. As recently as Monday, the Blazers had said Roy would pencil in as a starter.
The Associated Press provides additional details.
Portland Trail Blazers All-Star guard Brandon Roy has told the team that he is retiring because of ongoing difficulty with his knees.

Portland players were informed of Roy's decision to seek medical retirement on Friday before the first practice of training camp.

Roy, a five-year veteran who helped the team shed its "Jail Blazers" reputation, has been dogged by knee injuries and surgeries. He has said he lacks cartilage between the bones in both knees.

NBA spokesman Tim Frank said Roy had not yet filed the retirement paperwork with the league.

Roy did not report to the Blazers' practice facility on Friday and his agent did not respond to a request for comment on any retirement plans, first reported by ESPN.com early Friday.

"I couldn't believe it," Blazers forward Nicolas Batum said. "I still can't believe it."

The reports contradicted statements made on Monday during a news conference with Blazers President Larry Miller, coach Nate McMillan and acting general manager Chad Buchanan. Roy had met with team officials earlier that day and said he felt good and was ready to help the team in any way he could.

But during a medical evaluation on Thursday it became apparent that Roy's knees were not going to be able to handle another season.

"It's a tough situation," said Blazers center Marcus Camby. "People will say `Hey, he'll get his money. But Brandon's a competitor."
Earlier Monday,
Ken Berger of CBSSports.com reported
that Blazers guard Brandon Roy was considering medical retirement in the face of repeated severe knee injuries. The report will come as devastating news to Blazers fans, despite the long road leading to this point.
Roy has had injury concerns since he was drafted, and earlier this year,
a consulting surgeon for Roy said
that he only had 1-2 more years left in him. Many questioned the legitimacy of doubts about Roy's health after he exploded in the playoffs in a comeback win over the Mavs, who went on to win their first-round series against the Blazers. Roy had said as recently as July, Roy
said he was healthy and ready to play once the lockout ended
.
On December 5th
, the Blazers confirmed they would not be using the amnesty clause on Roy.
NBA rules stipulate that if doctors clear Roy for medical retirement, his salary would come off the Blazers' cap after one year, though he would still be paid the full amount of his contract. If he were to return for retirement for ten games or more, the full amount would return to the Blazers' cap situation.
It's an unfortunate ending to what was once thought to be a long and brilliant career. But the Blazers knew of the condition when they signed him to a massive extension, knew of it when he was drafted. It's the sad consequence of being human, that sometimes the body simply cannot give what we want.
Wesley Matthews
is expected to take over starting duties at shooting guard for the Blazers.