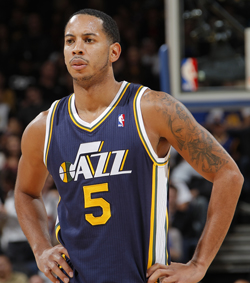 Harris is getting shopped?
(Getty Images)
Posted by Royce Young
For a moment there, the Utah
Jazz
looked to be the surprise story of the season. A hot start had them sitting in the top half of the West, which was stunning considering they essentially began a rebuild after trading
Deron Williams
.
They've come back to Earth some leveling at 15-18 after losing eight of their last 10, which means they could be looking to shake things up.
Via the Salt Lake Tribune
:
The Jazz remain open to moving starting point guard Devin Harris, league sources said, and reserve small forward C.J. Miles could be made available in the right situation. But Utah continues to take a long-term approach in building its team after the Deron Williams trade last February, and the Jazz won't make a move simply to pull the trigger.
Not exactly a new story as
there was word of this in late January
, but with the trade deadline approaching, it's certainly more meaningful. Behind Harris?
Earl Watson
. Behind him?
Jamaal Tinsley
. So it's not like the Jazz have a young point guard they've been grooming and want to work in.
But Harris hasn't been at all productive this season, averaging just 9.3 points and 4.6 assists per game. This is a one-time All-Star with the
Nets
, a guy that averaged 21.3 ppg in a season. And here he is as someone the Jazz would be open to move so they could give Earl Watson more playing time.
Still, you know who would probably love Harris? The
Lakers
. They desperately need point guard help and if they could offer up a first round pick or a young asset, the Jazz might jump at it. But Utah knows the Lakers are needy, which drives the price up.
As for Miles, he's certainly a player with a good amount of trade value. A big, strong defensive shooting guard that can hit from the outside. Playoff teams in search of help at 2-guard (
Bulls
,
Clippers
,
Pacers
) would likely be interested. But the Jazz are likely in the market for a solid draft pick or young asset in return.