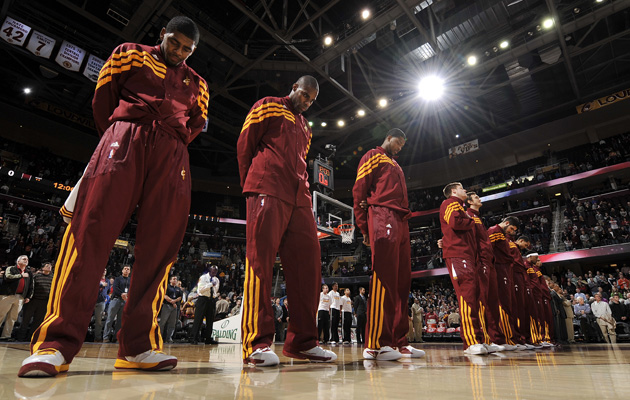 With his career winding down, Antawn Jamison is still a consummate pro.
(Getty Images)

By Matt Moore
I've called for Antawn Jamison to be traded, to be benched, to be removed from the
Cavaliers
by any means necessary. I have an extraordinary quick trigger with rebuilding projects. Lose your best player? Trade absolutely everyone not on a rookie contract for picks and space, bring in D-League guys to try and find a diamond in the rough (like, you know, the
Knicks
found in
Jeremy Lin
, because
they
were lacking in star power). There's no point in veterans on a team like that, no value to their contrct taking up space, their consistent if unspectacular play drowning out younger players. Jamison has no long-term future with the Cavs, is shooting 42 percent from the field, and his usage is tied for fourth higest in his career.
But beyond all that, you still have to be in the locker room, to talk to these guys to understand why players get the time they do, why Antawn has the role he still has on the Cavaliers (outside of his 19.2 points per 36 minutes and 17.9 PER).
Ohio sports blog Waiting for Next Year did a phenomenal post
on Jamison and his role with the Cavaliers. A few things struck me:
Jamison, despite the God-awful torrent of the past two years of his life which have included the Gilbert-Arenas-gun-fiasco, failing to be the piece to help LeBron get a ring in Cleveland, the 26-consecutive-losses debacle a year ago, and the fact that he started this season horribly, still talks after the game, still goes in depth on every loss like it's something new. That doesn't mean much to fans because, well, who cares about a guy making the media's job easier? Everyone hates the media. But Jamison isn't helping the media, he's taking the responsibility for the team, he's not ducking away or hiding. That takes some brass.
He worked out over the summer with Stephen Curry and Anthony Morrow during the lockout in North Carolina. There are so many guys in this league who do nothing to pay forward the help and mentorship they received from older players, so to hear Jamison taking that kind of role in his offseason along with working hard to develop a brotherly relationship with Tristan Thompson is really pretty incredible.
Byron Scott is hard on rookies, like a lot of coaches. The fact that he can count on Jamison to do what he's supposed to is pretty vital. Scot has given Kyrie Irving a shot to lead this team, to take the reins of the franchise. The fact that Jamison is still doing enough to provide support for that and isn't causing issues, like, say, Stephen Jackson is remarkable. (It should be noted Jackson is a reknown teammate and emotional leader for guys.)
His story only serves to make the fact that the Cavaliers couldn't win a title that much worse. Boston was such a tough matchup for that team, and was on a such an unlikely and desperate roll. That Cavs team is considered such a failure, but it really was good for most of the year, even if Jamison was still learning to fit in.
It's worth realizing in this story that there are reasons players aren't traded that have little to do with on-court performance. Jamison's minutes are going to go somewhere, why not to a veteran who creates a positive locker room enviornment? Why not to a leader who does as his coach asks? There will be time for Tristan Thompson, there will be time for others, and Jamison will take that demotion in stride like he did last year when
J.J. Hickson
(!) replaced him in the starting lineup.
But maybe it's OK that teams don't run for the hills of youthful failure at warp speed. Maybe there's still room in this superstar, ego-driven league for players like Jamison, good guys who just do their job.
(Via
WFNY
)