Posted by Ben Golliver.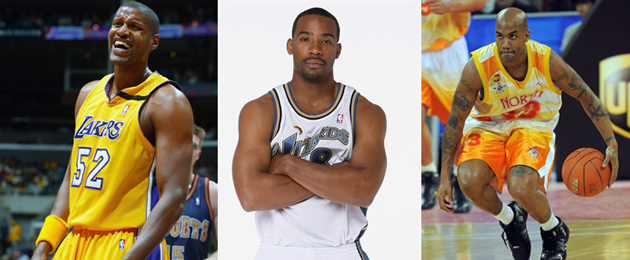 With Labor Day in the rearview and another collective bargaining agreement negotiating session on the slate for Wednesday, the NBA has turned a corner. The long, hot lockout summer is kaput.
Thanks to a relatively weak 2011 NBA Draft and without Summer League or a free agency signing period, this summer was mundane compared to the average NBA summer and a major letdown from the hysterical Summer of 2010. Without player movement and roster restructuring to dominate the headlines, our collective attention turned to empty and half-hearted labor rhetoric, planking, tattoos, sponsor trips to Asia, and street ball games.
And one other thing: player indiscretions, both on and off the court. For years, player conduct has been a hot button issue for the league. With that in mind, we present the authors of the top-10 indiscretions of the 2011 NBA lockout.
Top-10
10. Derek Anderson: Alleged financier of major cocaine operation
The temptation was to leave Anderson, a former guard for a number of NBA teams, including the 2006 NBA Champion Miami Heat, off of this list because of the sketchy nature of his accuser. Ultimately, the scope of the charges leveled against him simply cannot be ignored. In August, convicted killer Francois Cunningham alleged that Anderson bankrolled a major cocaine operation in Louisville, KY. Anderson maintained his innocence, through an attorney, and police have not yet charged him with a crime. Coincidentally, Anderson says on his website that he has a television series in production that is set in Georgia and based off of "The Wire." Hopefully Anderson won't be the next Snoop.
9. Latrell Sprewell: Millions owed in back taxes
Sure, failing to pay your taxes is kind of a boring transgression. Either the IRS or the state department of revenue is the aggrieved party and it's hard for the average person to feel much sympathy for them. The best way to spice it up, though, is to owe so much that you actually lead your state in delinquency. That doesn't happen every day, but former NBA guard Latrell Sprewell, best known for choking Golden State Warriors coach P.J. Carlesimo and for saying that he needed to "feed his family" when he turned down a $20 million + contract offer from the Minnesota Timberwolves, finds himself in that exact situation. The state of Wisconsin published a top-100 list of delinquent taxpayers and Sprewell, a Wisconsin native who also played for the Milwaukee Bucks, holds the very top spot, owing the state more than $3 million.
8. Stephon Marbury: Millions owed to bank over failed sneaker company
I know what you're thinking: the only thing more boring than owing millions in state taxes is owing millions to a bank. Fair point. That would apply in most cases, but former NBA guard Stephon Marbury is, quite obviously, not most cases. The man who got a tattoo on the side of his head and once ate Vaseline on a live internet stream famously launched an eponymous line of discount sneakers back in 2006. His main retail partner went under, the sneakers drew complaints about quality after some initial positive buzz and now Marbury, currently playing professionally in China, is staring at a $16 million loan that needs to be paid back. Anyone know the specifics of Chinese extradition laws?
7. Kendrick Perkins: Arrested after bar brawl in Texas
When this story first broke, it seemed like absolute chaos. When the dust settled it looked far more routine. Perkins, center for the Oklahoma City Thunder, was home in Texas conducting a children's basketball camp when he decided to go out for a night on the town. That night ended with him behind bars on charges of disorderly conduct and public intoxication after he allegedly attempted to fight the club's manager. Perkins looks like he is posing for an angry mug shot regardless of what is happening around him so we can assume he was prepared for the incident's legal aftermath. Through an attorney he has maintained that he is innocent of the charges and that he wasn't drunk. Still, that was too little, too late, at least by the Thunder's standards, as the first truly bad headline including the OKC Boy Scouts had been written. Assuming nothing else happens, it will likely be a blip on the radar.
6. Michael Beasley: Marijuana bust and shoving incident with fan
Beasley has the unique honor of being the only active player on this list with multiple indiscretions to his name this summer. The fun began with a relatively routine marijuana bust in July, when Beasley was allegedly caught with marijuana in his car while driving nearly 20 miles over the speed limit. Of course, the circumstances were a bit more serious given that Beasley had previously entered rehab and pledged to his new boss, Minnesota Timberwolves president David Kahn, that he would remain drug-free. Weeks later, Beasley lost his cool during an exhibition game in New York City, shoving a courtside fan in the face after a back-and-forth trash-talking session. The 28 GMs who didn't bite when the Miami Heat gave him away for nothing last summer all feel vindicated.
5. Zach Randolph: Drug dealer allegedly assaulted at his home
Memphis Grizzlies forward Zach Randolph is the highest-profile current player to find himself in a messy situation this summer. That comes as no surprise to those who have watched his career unfold, as sketchy friends, drug allegations, late-night beatings and the like have seemed to follow him at every stop. In the latest installment, an Oregon drug dealer alleges that Randolph "snatched" his marijuana from him and refused to pay, then watched as Randolph's friends beat him so badly with pool cues that he had to be hospitalized. Any time your police report reads like a game of Clue– "Associates in the living room with a pool cue" – that's a really bad sign. Will Randoph ever get a clue? Probably not, and it hasn't cost him yet, as he just signed a super-rich contract extension with the Grizzlies.
4. Darius Miles: Airport gun incident
Miles, a former teammate of Randolph's on the so-called "Jail Blazers," was arrested in the most perplexing and depressing of circumstances. Knee injuries robbed Miles of what should have been the second half of his NBA career and, at 29, he hasn't touched an NBA court since the 2008-2009 season. In early August, Miles was taken into custody after allegedly trying to take a loaded gun through airport security at St. Louis' Lambert Airport. That sentence prompts so many questions that it is difficult to know where to begin. Why did he need a gun? Was it for personal protection or image? How could he possibly have thought he would make it through security? If you carry a gun with you for long enough, can you forget you have it with you? And, perhaps most importantly: Is the Darius Miles Story doomed to reach an unhappy ending?
3. Jay Vincent: Jailed on fraud charges
Vincent, childhood friend and former teammate of Magic Johnson at Michigan State and with the Los Angeles Lakers, racked up 413 career steals during a nine-year NBA career. In the twenty years since he retired, Vincent has racked up thousands more. A Michigan court sentenced Vincent to more than five years in jail for his role in an online scam that bilked roughly $1 million out of 20,000 people. During the trial proceedings, Vincent was caught in another alleged scam in which he placed ads for a fake basketball team, charging prospective players a fee for a tryout that never materialized. Not even a plea from Johnson himself could save Vincent from doing hard time.
2. Samaki Walker: Arrested for marijuana and illegal steroid possession
The scope of Walker's alleged crimes isn't as grave as many of the others on this list, but it's certainly the most humorous. Was there a better headline anywhere over the last few months than "Samaki Walker eats marijuana during arrest"? I doubt it. Walker, former Dallas Mavericks lottery pick and member of the 2002 NBA Champion Los Angeles Lakers, was pulled over by police in Arizona and allegedly had 10 grams of marijuana and liquid steroids in his car. His plan to avoid suspicion was simple: make the marijuana disappear from sight by ingesting it. That's one of those ideas that is either so brilliant it's stupid or so stupid it's brilliant. Either way, it didn't work. At 35, his professional basketball career is winding down, and he claimed he was using the steroids because they were legal in Syria, where he most recently played. Once it's time to retire, Walker will surely be able to find work playing himself if they ever make a "Dude, where's my car" sequel.
1. Javaris Crittenton: Charged with murder
This list ends on a terribly tragic note. Crittenton, a former NBA guard best known for his 2009 locker room dispute over a card game with former Washington Wizards teammate Gilbert Arenas that involved guns and saw both players suspended for the season, has been charged with murdering a mother of four in his native Georgia. Police say Crittenton fired at the woman in retaliation for an April robbery in which two men took more than $50,000 worth of jewelry from him at gunpoint outside a barber shop. Crittenton is innocent until proven guilty, but his life will never be the same. And, of course, the life of the victim in the alleged murder, Jullian Jones, has been lost forever.
Dishonorable Mention
Los Angeles Lakers center Andrew Bynum was allegedly caught parking in a handicapped parking space at a grocery store, despite the presence of many unused, normal parking spots just yards away. The act could have subjected him to a minor fine. This one wasn't really criminal, but it was criminally immature and insensitive.
Future Hall of Fame center Shaquille O'Neal has found himself in the middle of so many bizarre lawsuits this summer – allegations of wiretapping, hiring hit men, ordering murders, kidnapping, sex tapes, you name it – that it's impossible to place him on this list.
Missed child support payments are, sadly, a common problem for former professional athletes, but Fab 5 member and former guard for the Toronto Raptors and Denver Nuggets Jimmy King put a twist on the situation, finding himself arrested at church by Michigan police. At church? Is nothing sacred!
Los Angeles Lakers forward Matt Barnes punched an opponent during a Bay Area pro-am game and New York Knicks forward Renaldo Balkman headbutted Memphis Grizzlies guard Greivis Vasquez during a FIBA Americas game. Both incidents didn't quite seem serious enough to crack the top-10.