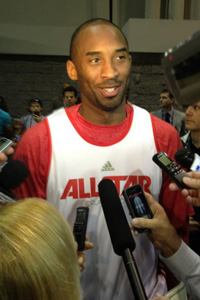 Kobe Bryant took a hit in the pocketbook for not doing this.
(CBSSports.com)
Posted by
Ben Golliver
23 of the 24 2012 NBA All-Stars showed up for a mandatory Friday morning media availability in Orlando. The one absentee -- Los Angeles
Lakers
guard Kobe Bryant --
called in sick
. That proved to be a costly decision.
USA Today reports
that the NBA fined Bryant $40,000 for multiple All-Star Weekend absences.
The NBA fined the Los Angeles Lakers guard $40,000 for missing a news conference and a mandated charity appearance for NBA Cares during All-Star weekend in Orlando.

In addition, the NBA fined Boston Celtics forward Paul Pierce and guard Rajon Rondo $20,000 each for missing their charity appearances.
Reporters stood around for the better part of an hour on Friday, waiting for Bryant to show up. Eventually, a league spokesman informed the crowd that Bryant would not be attending due to an illness.
Bryant did attend events later on Friday and eventually
met with reporters before a Saturday practice session
. There, he immediately brought up his absence when asked a question he didn't like.
"What type of question is that to ask me? Are you kidding me?" Bryant said. "Man, I was sick the other day so I didn't have to hear this."
According to StoryTellersContracts.com
, Bryant's 2011-2012 salary with the Lakers is $25.2 million, tops in the league. The $40,000 fine represents roughly 1/630 of his salary. The equivalent fine for someone making $50,000 a year would be roughly $79.
Bryant's West team defeated the East, 152-149. Bryant finished with 27 points, 1 rebound, 1 assist and 2 steals in 34 minutes. He also suffered a broken nose when he was fouled by Miami
Heat
guard
Dwyane Wade
.