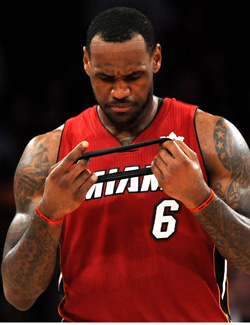 King James steps away from contraction talk, claiming he didn't know what it meant, and that eliminating teams isn't what he meant when he said things which explicitly outline contraction.
Posted by Matt Moore
When
LeBron James
stuck his foot in his mouth the other day about contraction
, it wasn't just small market advocates like myself who wound up tweaked. NBA Union President
Derek Fisher
wasn't too happy about a player, the biggest player,
breaking ranks on the Union's stance regarding contraction
. That's enough to get the backtrack started. And oh, has it, with James immediately running full speed away from the subject under quite possibly the most idiotic of excuses. He didn't know what the word meant. From ESPN:
"Thats crazy, because I had no idea what the word contraction meant before I saw it on the Internet," James said after the Miami Heats practice Monday. "I never even mentioned that. That word never even came out of my mouth. I was just saying how the league was back in the 80s and how it could be good again. I never said, Lets take some of the teams out. "
via
LeBron James: I never said I advocated contraction - ESPN
.
James had more words regarding the word he didn't know the meaning of. From the
South Florida Sun-Sentinel
:
"I'm with the players, and the players know that," he said. "I've been with the players. It's not about getting guys out of the league or knocking teams out. I didn't mean to upset nobody. I didn't tell Avery Johnson to leave either.

"I didn't say, 'Let's abandon the Nets, and not let them move to Brooklyn,' or, 'Let's tear down the Target Center in Minnesota.' I never said that."
via
The South Florida Sun-Sentinel
-Ira Winderman.
So he was not talking about contraction, which he didn't know the meaning of, when he said that players should be taken from their teams and put on other teams and not great teams should go away. Got it. This is a guy who had a television special built around his free agency decision, who has his own brand, has a team of handlers, and is the face of the NBA. You'd think he'd be able to avoid the seemingly daily blunders he finds himself in. There will be some, like CBSSports.com's own Ken Berger, who thinks that James is on point about contraction being good for the league, and that is should hearken back to the vaunted 80's.
Of course, it turns out that
quite as stacked as we may remember them
. In fact, during the vaunted 80's, you really only had two stacked teams (
Lakers
,
Celtics
naturally) and two pretty great teams (Detroit, Philadelphia for a single season). Houston
could
be considered if you want to start dipping into the bottom of the superstar barrel. So not only did LeBron not know the word of what he was talking about, but he was still wrong about the reason for implementing that concept that he didn't know the name of.
For a guy who looked phenomenal taking down the Lakers this weekend, he's not exactly on his game in the PR world.