Duke coach Mike Krzyzewski blasts Jalen Rose over his comments made about the university. Posted by Ben Golliver.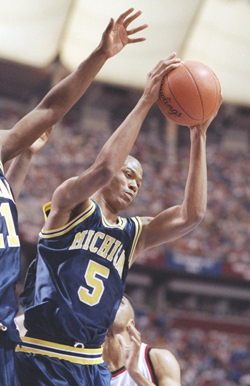 Just when things had quieted down after weeks of outrage regarding comments made by former University of Michigan basketball player Jalen Rose about Duke University, Blue Devils coach Mike Krzyzewski has stepped into the fray to prolong the back and forth. In a documentary movie, Rose, a member of Michigan's famed Fab Five, referred to black Duke players as "Uncle Toms" and said that he felt the university didn't recruit inner city players.
ESPNChicago.com reports
that Krzyzewski called those comments "very insulting" and "wrong" and went on to take shots back at the Fab Five's success at Michigan, questioning whether they left a legacy.
"We were very successful against them and, to be quite frank with you, we recruited Chris Webber," he said. "I didn't recruit Jalen Rose because we had Grant Hill and I'm happy with that. We didn't look at the other, Juwan Howard [because] we knew he wasn't going to come to Duke. The other two kids we didn't think were the caliber that could play as well as Thomas Hill and Brian Davis and Billy McCaffery. They're good kids. They were good kids."
"They had a heck of a run but, they didn't leave anything, they didn't establish anything there," Krzyzewski said. "The guys that I had established something that Jay Williams continued to do 10 years later -- the standards of what it meant to be a Duke basketball player."

Coach K has every right to be angry. Obviously, Rose's comments in the documentary were meant to reflect how he felt as a teenager, but whether they are past or present thoughts it's reasonable for Coach K to view them as an attack upon his integrity.
His response, though, leaves a lot to be desired. The digs at Rose and his teammates for not being good enough to be recruited by Duke were probably best left unsaid. Really, that pettiness is beneath Krzyzewski, who is a living legend and simply didn't need to make those personal statements to defend his program's general recruiting strategy or decisions. His record of success speaks for itself.
But Coach K really loses his way when he attempts to deny the Fab Five's legacy and impact -- "They didn't leave anything" -- by pointing to Michigan's basketball struggles. Rose and company clearly left a legacy that extended far outside the UM basketball program, one that continues to influence NBA players to this day. To not acknowledge that decades-long legacy's impact upon thousands (millions?) of young black men unintentionally makes Rose's greater point for him. Yes, Coach K helps us conclude, there was a divide between the world Rose lived in and the world Duke and its head coach occupy. And it apparently still exists.