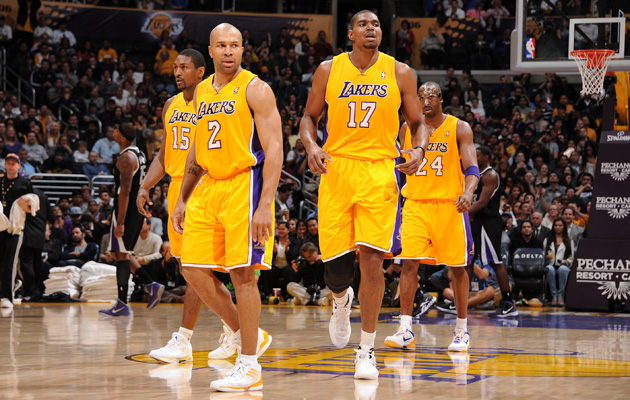 The Lakers are facing serious problems on the road.
(Getty Images)
By Matt Moore
The
Lakers' loss to the
lowly Wizards isn't causing panic. But it's definitely got the Nation of Lakerland in an uproar, inside and out. The Lakers' inability to win on the road where they are now 6-14 on the season is a huge black mark on their championship-caliber record. It makes two losses in two nights to lottery teams, with the
Wizards
truly one of the league's worst teams. It involved a 21-point blown-lead, a dagger from
Nick Young
, and
Kobe Bryant
shooting 31 times.
Thirty-one-times for thirty points.


So in this time of trouble, Mother Laker has of course came to them, speaking words of wisdom: "throw your coach under the bus and try and run the offense you want on your own." From ESPN.com:
Bynum publicly invited the bulk of the responsibility for the Lakers' second straight loss to a lottery-bound straggler from the Eastern Conference, but sources told ESPNLosAngeles.com this week that there is growing concern among some Lakers players as to whether first-year coach Mike Brown and his staff have the X-and-O wherewithal to fix a Lakers offense that is averaging its lowest per-game point total (94) since before the advent of the 24-second shot clock in 1954-55.

Brown's effect on the Lakers' defense has been undeniable, but sources say the team's ongoing struggles on the road -- with L.A. dropping to 6-14 away from Staples Center following a loss in Detroit and blowing a 21-point lead to the undisciplined Wizards -- have some veterans longing for a return to the trusty Triangle offense preferred by Brown's predecessor, Phil Jackson.
via
Sources: Los Angeles Lakers players have concerns over coach Mike Brown's X's and O's - ESPN Los Angeles
.
The report goes on to say:
Sources told ESPNLosAngeles.com that multiple players have continued to meet privately since the initial team meeting to discuss running elements of the Triangle offense again.

"The players want to unify," one source with knowledge of the situation said. "They know how to win, and they want to fix this. I don't know if they can, though. "
via
Sources: Los Angeles Lakers players have concerns over coach Mike Brown's X's and O's - ESPN Los Angeles
.
Yes, because clearly, when I think about who should be organizing an offense behind their coach's back, I think of
Matt Barnes
,
Metta World Peace
,
Andrew Bynum
, and
Steve Blake
.
If the report's on target, that's an abject disaster for Brown and Lakers' management. Players considering overthrowing a coach's offense in favor of what they want to do, which happens to be one of the most complex offenses to run? It should be noted that no coach outside of Phil Jackson, with either Michael Jordan, Kobe Bryant in his prime, or Shaquille O'Neal and Kobe Bryant, have been successful with the system. So basically this is a terrible idea.
This kind of talks is what comprises a coach losing his team, so the report's pretty volatile. It's been less than a full season for Brown and with the players unrest showing in both their effort and talks like this, the Lakers' most drama-filled season since Kobe Bryant's trade demand in 2007 is threatening to break apart one of the most dominant teams of the last half-decade.