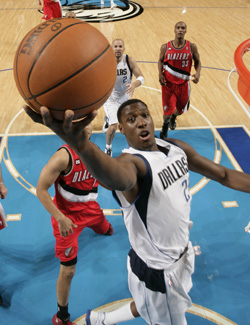 With Caron Butler done for the year, is there an alternative to just plugging in replacement parts for the Mavs?
Posted by Matt Moore
With Caron Butler out for the season,
Royce Young went over the options
for the
Mavericks
, but the general tone is doom and gloom. However, in all of this, something must be remembered about Butler's injury. It wasn't to one of their bigs.
The Mavericks were very particular in their moves this summer. They brought in bigs.
Brendan Haywood
moved to backup center.
Tyson Chandler
brought in as a difference maker, even with his injury issues.
Ian Mahinmi
picked up from the
Spurs
' discard pile.
Alexis Ajinca
picked up for spot duty. That's a ton of size for a team that's been known for razzle dazzle most of the decade. The idea was pretty clearly to try and build up enough size to slug with the
Lakers
. And that's still the plan.
So with Butler on the shelf, what are they missing? The biggest component is Butler's shooting. Butler was on a hot streak early on, shooting 45% from the field and 43% from the arc, the best mark of his career. Without him, the Mavericks need
Jason Terry
to maintain and improve his production if possible. It means more jump shots are needed from
Shawn Marion
. And it means Rodrigue Beaubois needs to get back as soon as possible. Beaubois is currently described as "not close" to returning.
Another option exists, for the Mavericks to counter their perimeter attack with Kidd and Terry, and their elbow attack with
Dirk Nowitzki
by pounding it inside with Tyson Chandler and the more offensively capable Ian Mahinmi. Mahinmi has considerable upside still and a soft touch around the basket. In short, he's an offensive upgrade even if his defense has a gap.
The point of all this is that while losing Butler is a huge blow, it is not unrecoverable. The Mavericks were built this year on positional fluidity. They have the versatility to respond if Rick Carlisle is willing to go to the lengths to adapt as necessary.