Posted by Ben Golliver.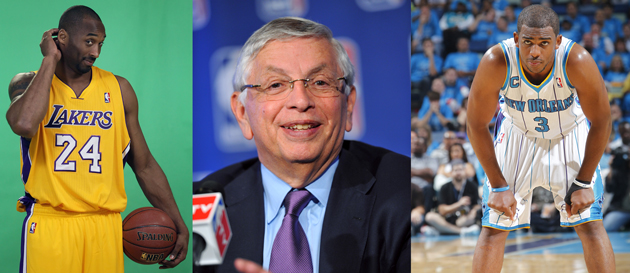 Deals, non-deals, endless rumors and more. It was a wild opening weekend for the abbreviated 2011 NBA free agency period. Here's an extended look at who won and lost over the first 72 hours. Let's break it down: from the biggest moves to the smallest signings, from the trades that weren't to the guys who remain unsigned.


The Biggest Deal
The NBA came to a standstill when a proposed 3-team trade between the New Orleans Hornets, Los Angeles Lakers and Houston Rockets that would have sent Chris Paul to L.A. fell apart twice thanks to vetoes from NBA commissioner David Stern.
Winners: Orlando Magic
This fiasco was even uglier than the lockout, which is saying something. All the key parties wound up losing one way or another – see below -- but the Magic slide in as winners because the Lakers emerged from the weekend without acquiring a second superstar to pair with Kobe Bryant, and with both Andrew Bynum and Pau Gasol, two excellent potential trade chips for Dwight Howard, still on the roster. The Magic win whether L.A. ends up pairing those two in a deal for Howard or if the idea of such a deal simply sits out there as a potential offer against which Howard's other suitors must match up. Orlando needs a bidding war in the worst way and the Paul failure ensures that L.A. still has plenty of motivation, and attractive pieces, to actively bid.
Losers: Chris Paul and the New Orleans Hornets
Paul was seemingly inches from an NBA second life and a brand new level of fame. Instead, he returns to a camp with a roster in tatters and the news that longtime running mate David West is Indiana-bound. His future couldn't be more uncertain amid the confusion and he's now forced to deal with questions day after day with no short-term end in sight. Sounds awesome! Thanks, boss.
Hornets GM Dell Demps and coach Monty Williams, meanwhile, are left with a frustrated Paul who obviously still wants out, a barren roster and serious questions about their autonomy as a basketball operations group, not to mention the fact that the league-owned situation could result in another franchise sale at some point in the near future. All this for a team that -- less than a year ago -- was a dynamic playoff force that gave the Lakers a run for their money. The ground fell out from under them.
Monumental Loser: David Stern
It wasn't just the tremendously questionable decision to veto the trades that makes Stern a loser. It was the way the process unfolded. On what should have been the most exciting time on the NBA calendar following months of petty bickering during the lockout, the spotlight wound up back on Stern. Vetoing the trade directly alienated his league's most important team, completely undermined the team he operates, and handcuffed the poor Houston Rockets, who were in the middle of a critical strategic time in their franchise's post-Yao history. The delayed explanation for the veto led to a virtual standstill in other moves, as everyone around the league waited for the largest domino to fall. The eventual attempts at explanation were vague and way too late, leading to an open season of criticism of Stern and talk of walkouts from training camp. One player, Lamar Odom, was so upset by the trade talk limbo that he followed through on that threat, finding himself dumped to the Dallas Mavericks for virtually nothing. Now that it's all said and done, the Hornets can look forward to worse offers for Paul and/or the prospect that he walks from the team as soon as free agency allows. Nice.
Other Big Deals
Winners: New York Knicks and Tyson Chandler
It's great when solid matches come together fairly cleanly. New York made no secret of its desire for Chris Paul but was smart enough not to waste precious time on what ended up being a sinkhole. Targeting Chandler and making the necessary moves to acquire him – amnestying Chauncey Billups and trading Ronny Turiaf – took creativity and guts, and the eventual payoff is the best 3-4-5 combination in the NBA. Chandler fills New York's biggest need and comes in at a reasonable $58 million over four years, a deal that will carry him through the rest of his prime years.
Chandler manages to cash in his new-found respect from the 2011 title team with an excellent pay day from a marquee franchise that is clearly on the upswing. Knicks fans will love his game (as long as he stays healthy, of course).
Losers: Golden State Warriors and DeAndre Jordan
Kudos to the Warriors for doing the right thing with Charlie Bell by telling him to stay away from training camp after he showed up drunk to a court hearing following his second DUI arrest in under a year. It was time to take a stand and they took it. That stand didn't need to include burning the team's amnesty clause to release Bell's paltry $4.1 million salary. With David Lee, Monta Ellis and Andris Biedrins all on the books for big-time money, the amnesty is a critical protection against injury for the Warriors. With a bunch of promising youngsters in place, it will be a shame if an unforeseen, devastating injury slows the organization's ability to wheel and deal because they burned the amnesty toon soon and wind up crippled when it comes to cap flexibility.
Why did the Clippers bother to amnesty Bell? For the right to make a substantial offer to Los Angeles Clippers restricted free agent center DeAndre Jordan, a player that team consultant Jerry West appeared to question in an interview this weekend. Clippers owner Donald Sterling is impossible to pin down but his management team is highly motivated to retain Jordan, and will almost certainly match the offer given, leaving Golden State with nothing except $4 million of cap room to show for their misguided efforts.
Winners: Memphis Grizzlies and Marc Gasol
Marc Gasol, like Chandler, was one of the premier names in this weak free agent class. He will reportedly cash in to a similar degree: receiving a 4 year, $55 million offer sheet from the Rockets that the Grizzlies are expected to match. Retaining Gasol was a critical momentum move in Memphis, as the miracle playoff run to defeat the San Antonio Spurs would have been a distant memory if Gasol was allowed to walk and leave a major hole in the middle. Instead, it's back for more fun for one of the grittiest, most underappreciated groups in the game. Grizzlies owner Michael Heisley answered the questions about whether he would step up and pay to play, inking Gasol, forwards Zach Randolph and Rudy Gay and guard Michael Conley to big-time extensions. Good times in Tennessee.
Losers: Los Angeles Lakers and Lamar Odom
Surely seller's remorse is sinking in after an emotional rollercoaster of a weekend in L.A., which saw the Lakers immediately grant Odom's trade request, shipping him out of town for nothing more than cap relief and a heavily protected first round pick. The fact that he lands on a major conference rival makes this a very meaningful talent swing and the Lakers are capped out to the point where replacing his many contributions will be exceedingly difficult in the short-term. It's no surprise that Kobe Bryant and Derek Fisher weren't all that psyched about this move. The Lakers couldn't have gotten less for Odom and he couldn't have gone to a worse destination, other than maybe the Oklahoma City Thunder.
On the other hand, Mavericks owner Mark Cuban emerges as a major winner, having flipped a simple trade exception acquired from New York in the Chandler signing for a top-flight, versatile player still in his prime years who happens to be on an affordable, flexible contract. All in less than 24 hours. Meanwhile, a similarly massive trade exception created by LeBron James' departure still sits unused by the Cleveland Cavaliers and owner Dan Gilbert. Please advise.
Dwight Howard Saga
Winner: Dwight Howard
It might come with a public relations price, but it probably feels like a huge relief for Howard knowing that the world now gets where he stands: he's formally requested a trade and has been in contact with teams on his wish list. No more goofy games or beating around the bush. He's a major step closer to a certain future. The scrutiny will surely increase but at least people, especially Magic fans, have a better idea of where he's coming from and how they should manage their expectations.
Loser: Otis Smith
It doesn't get any worse than watching your CEO drunk dial Howard and then promptly resign. Oh, wait, yes it does. Your franchise announces major layoffs and Howard tells the world that he hasn't had any contact with you since requesting a trade and that you never listened to him when he made personnel suggestions. Oh, yeah, you can also make an illogical 4-year, $25 million commitment to Jason Richardson, a veteran wing on the precipice of decline, when everyone knows you should be looking for any possible way to reduce payroll. Brutal. On the bright side, as mentioned above, at least the Lakers are still in play to help the Magic save some face.
Medium Deals
Winners: Indiana Pacers and David West
The Pacers land West, one of the biggest and most proven names on the free agent market who fits in nicely to a well-balanced, fairly deep roster that has talent at all five positions. A nice mix of veterans, youngsters and some solid bigs make this a group that might just compete for homecourt advantage in the Eastern Conference playoffs next season. The price for West – 2 years and $20 million – is totally reasonable and hedged nicely against possible deterioration from his recent knee injury and aging. West scores a ticket out of a totally shipwreck in New Orleans, a solid pay day and the chance to hit free agency one more time in two years before his value starts to really diminish.
Losers: Sacramento Kings and Marcus Thornton
You can be as high on Thornton's upside as you like: it's very, very difficult to justify spending $31 million over four seasons on a guy who has the same skillset as the two players that you're most heavily invested in, Tyreke Evans and Jimmer Fredette. With one of the lowest payrolls in the league and a need to up that number in a hurry, it's not like Sacramento spent its way into a corner here, but there's simply no way to maximize the effectiveness of Evans, Fredette and Thornton at the same time. Evans and Fredette are 22 and Thornton is 24. Thornton doesn't meaningfully help you win now and he necessitates a stunted or unorthodox development pattern for Fredette and will almost certainly wind up in staring contests over shot selection with Evans. The money had to be spent and at least it wasn't spread over five years, but $31 million should solve problems, not create new ones.
Having A Plan
Winners: Miami Heat
Getting Mario Chalmers, a quality point guard who was headed for free agency, for 3-years and $12 million, with a team option on the last year to boot, is an excellent value. Getting Shane Battier for the mini Mid-Level Exception is downright ridiculous. By the way, the Heat brought back James Jones, brought in Eddy Curry and managed to retain Mike Miller. Simply amazing. Miami emerged from the weekend as the overwhelming title favorites.
Losers: Portland Trail Blazers
During a Monday press conference, Portland announced its intentions of starting Brandon Roy and spoke excitedly about the prospect of Greg Oden's return. By Friday, Roy had decided to pursue a medical retirement, apparently without giving the team any notice, and Oden had suffered yet another medical "setback" that puts his 2011-2012 into jeopardy. Then, with executives scrambling to pursue contingency plans, franchise forward LaMarcus Aldridge was forced to undergo a heart procedure that is expected to keep him out up to two weeks. The Blazers salvaged the weekend by signing veteran Kurt Thomas to fill a much-needed hole, but wound up giving a 2-year deal to a 39-year-old. After all of that, the team is still weighing whether or not to amnesty Roy. That's a tough stretch.
Minor Deals
Winners: Washington Wizards
The Wizards scored a draft pick and Ronny Turiaf for virtually nothing thanks to the cash considerations included by the Knicks for their work in facilitating the Chandler trade. Filling a roster hole for free and grabbing a future asset is always a win.
Loser: Chauncey Billups
Billups compounded a tough situation – getting amnestied by the Knicks without much warning – by flipping out publicly in the hope that he would scare off potential bidders for his services. He could quickly change from loser to winner if his nuclear strategy works and he winds up getting to pick a contender to latch on to, but for now a guy who was always known as a class act sure looks like a jerk. How many times do you think Billups has said "the NBA is a business" during interviews? 10,000? How do you forget all of that so quickly and threaten to disrupt a team's locker room? He crossed a line.
Winners: Phoenix Suns
They weren't flashy moves, but re-signing veteran forward Grant Hill back for just $6.5 million and snatching up former Lakers guard Shannon Brown for $3.5 million were very nice value plays that addressed needs. Of course, the Suns have made their fair share of mistakes in recent years, so value plays were about the only moves at their disposal.
Loser: J.J. Barea
Who is going to pay this man? Have we figured that out yet? Had there not been a lockout and had the old Mid-Level Exception system been in place, he likely would have seen a monster financial bonanza off of his impressive NBA playoffs. Instead, he waits and wonders. He could very well still get paid, but something says this free agency process didn't play out quite like he expected. Update: On Monday morning comes word that Barea will get his money, $19 million over 4-years, but is signing with the 17-win Minnesota Timberwolves to do it. From first to worst. Ouch.