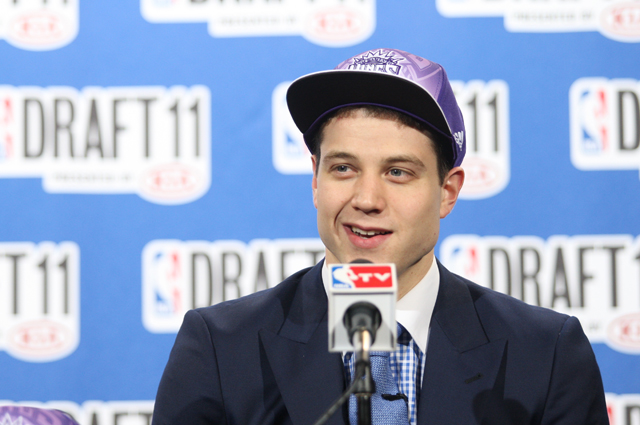 Posted by Matt Moore
The
Kings
managed to take on
John Salmons
' salary for an aging player while giving up a veteran point guard on a reasonable deal and in return moved down three spots in the draft. They then used that pick to select Jimmer Fredette. Popular? Sure. Exciting? Absolutely. Bit of a reach? Totally. Fredette was going to go in the top-10 based on hype, not on translatable talent. There are concerns about his ability to translate to a point guard, and to defend bigger players. The latter concern is covered in Sacramento because
Tyreke Evans
is big enough to guard a moving house, but the Kings still need a distributor point guard and instead they have four ball-handling, scoring guards (Jimmer, Reke,
Marcus Thornton
, and John Salmons they traded for Thursday). And apparently, the Kings coaching staff was aware of that fact, and as a result, there was a rift over the pick.
Ken Berger of CBSSports.com reported
before the pick went in that ownership wanted Jimmer, the coaching staff wanted
Alec Burks
. From Yahoo! Sports:
The Sacramento coaching staff isnt happy with the selection of Fredette, sources say. They wanted a veteran guard, ala Felton or Parker.
via
Twitter / @WojYahooNBA: The Sacramento coaching st ...
.
Ownership getting entangled in basketball decisions is almost never a good idea. Mark Cuban's highly involved, but he asks for what his trusted people's recommendations are and for the most part lets Donnie Nelson do his job. Interfering like this creates situations where you have to have a cagematch before each game to decide which one of your four guards is going to get 25 shots per game. But it will help ticket sales in Sacramento, so maybe that's the Maloof's plan, even if they don't want to keep the team in Sacramento.
All in all, a weird day in Kings-land that resulted in Jimmer Fredette winding up in a strange spot for his talents.