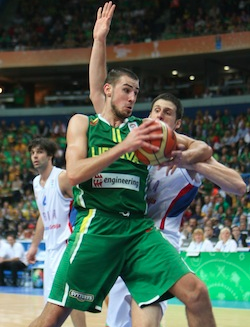 Posted by Royce Young
The
Raptors
might just have to wait a year too see exactly what
Jonas Valanciunas
is. They were already planning on that, but it's looking more official now.
The intriguing fifth overall pick in last June's draft tore up the U-19 FIBA games and has slowly become sort of a cult favorite to become a big NBA hit. There was concern with his buyout situation in Lithuania, mainly because he doesn't have one,
but ESPN.com reported over the weekend
that could be settled, opening the door for him to join the Raptors this year.
[A] source close to the team told ESPN.com on Saturday that there's a small chance they might be able to get him this season. The source said that the team reached out to Valanciunas' agent over the weekend to gauge the center's interest in joining the Raptors in 2011-12. If Valanciunas has interest, the Toronto would have to work out a buyout with his team in Lithuania, Lietuvos Rytas.
His Lithuania team didn't qualify for Euroleague this season and is losing serious money.
Bryan Colangelo said after the draft
that he could "confirm" that Valanciunas's buyout was in place. However, that doesn't appear to be happening because Valanciunas does have the needed interest.
Consider this from Monday via TSN.ca
:
According to the Lithuanian Basketball official site LithuaniaBasketball.com, Valanciunas, who the Raptors took with the fifth pick in the 2011 NBA Draft will remain with his current team until the end of the season.

"I'm currently with Lietuvos Rytas and I'm not really interested in those talks, Valanciunas said. "There's a lot to be done here. I'm in Lietuvos Rytas, not the Raptors."
It's not a shock to the Raptors because again, they anticipated waiting a year to team the seven-foot Valanciunas with
Andrea Bargnani
, but of course the team would've loved to get some time working with him. Valanciunas, 19, himself even told NBA teams he felt he needed at least another year in Europe to get stronger.
in the U-19 games against Team USA and Florida's Patric Young, who is a projected first-rounder in 2012, Valanciunas had 30 points, 15 rebounds and four blocks.
Again, the Raptors were planning on 2012-13 to welcome their new center to the fold and even then, he might not see much action. He's a raw, talented big man that needs some strength and polish but as he showed this summer, has the chance to be something pretty special if the right amount of patience is shown developing him.