Posted by Ben Golliver.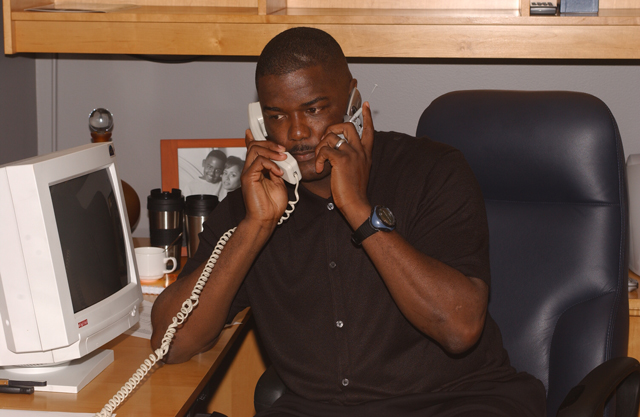 NBA GMs and presidents don't often publicly admit they have made mistakes, at least not while they are still employed.
Pistons
president Joe Dumars has seen the highest of highs and the lowest of lows in his tenure in Detroit, though, and he sounded humbled this week after announcing the hiring of new coach Lawrence Frank.
In
an interview with CBSDetroit.com
, Dumars used a golf analogy to explain
the hire
.
"What do they call a do-over in golf? A mulligan? This is my mulligan here, man," Dumars said. "This is my one do-over that I want to get right in the worst way right now."
Frank becomes the seventh man to coach the Pistons since the Dumars era began in 2000-2011. He also becomes the third coach since the 2008-2009 season as Michael Curry lasted just one year, winning 39 games, and John Kuester barely made it through two seasons, winning 27 games in 2009-2010 and 30 games in 2010-2011, while dealing with roster mutinies and public disagreements with players.
Dumars said the experiences with Curry and Kuester led him to take a more deliberate process in selecting Frank.
"If I had to do [the previous hires] over again, I would probably take as much time as this one," Dumars admitted. "What a long process does, it not only allows you but it almost forces you to deal with all different types of issues. Not going through that process, you hire a guy, then after you hire him then you end up going through those things and you start seeing some red flags that you didn't see earlier on."
The Naismith Hall of Fame guard won two titles as a player with the Pistons and grabbed a third ring in 2003-2004, when his well-constructed Pistons toppled the heavily-favored Los Angeles
Lakers
. But that success has been marred by more than a few mulligans along the way.
In addition to the hiring failures of Curry and Kuester, Dumars drafted
Darko Milicic
ahead of
Carmelo Anthony
,
Chris Bosh
and
Dwyane Wade
in the 2003 NBA Draft, trade
Chauncey Billups
for
Allen Iverson
, signed
Charlie Villanueva
and
Ben Gordon
to hefty long-term contracts and allowed the disgruntled
Richard Hamilton
and
Tayshaun Prince
to tear apart his locker room last season. That's a range bucket's worth of dropped ball mulligans in one paragraph.