John Kasich, Governor of Ohio, declared the Dallas Mavericks "Honorary Ohioans" after their 2011 NBA title. Posted by Ben Golliver.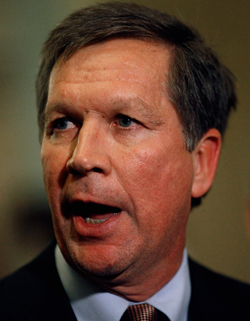 Revenge for "The Decision" now bears an executive seal.
John Kasich, Governor of the state of Ohio, took the unusual step of honoring a team with no geographical ties to his jurisdiction. On Monday, one day after the Dallas Mavericks defeated the Miami
Heat
in the 2011 NBA Finals, Kasich's office released a press release noting that the governor had issued a resolution that declared that the Mavericks, their friends, family and fans are now officially "Honorary Ohioans."
Why would he do this? Retribution, of course.
The Heat were led by Ohio native former Cleveland
Cavaliers
star
LeBron James
, who opted to take his talents to South Beach last summer rather than return to play for the Cavaliers. In return, fans in Ohio booed him mercilessly during his two return visits to Cleveland and openly rooted for the Heat to get bounced from the playoffs.
The resolution specifically praises Dallas' "loyalty, integrity and teamwork" and specifically praises Mavericks forward
Dirk Nowitzki
for choosing to re-sign with the Mavericks last summer. Kasich's resolution bears the official seal of Ohio, bestows upon the Mavericks "all privileges and honors" that goes with the title "Honorary Ohioans" and is signed at the bottom.
You know who definitely finds this hilarious and awesome? Cavaliers owner Dan Gilbert, who issued
his own decree
on Sunday night.
Below is a small version of the official resolution.
Click here to read the whole thing
.
Hat tip: IAmAGM.com.