The Toronto Raptors have reportedly reached agreement on a contract extension with GM Bryan Colangelo. Posted by Ben Golliver.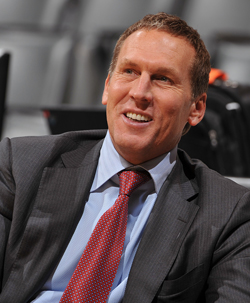 UPDATE:
The National Post reports
that Colangelo says he has " agreed in principle" to a "multi-year" extension with the Toronto Raptors. The team has also
officially announced the signing
.
The Toronto Raptors were awful in the first year of the post-Chris Bosh era, but that's not stopping the team from locking up its top basketball executive.
TheStar.com reports
that Raptors president and GM Bryan Colangelo is about to receive a contract extension.
The club's president and general manager is closing in on a new multi-year deal to remain in charge of Toronto's basketball operation, multiple NBA sources said Tuesday.

"It's happening," said one person with knowledge of the negotiations.
Colangelo, who previously worked for the Phoenix
Suns
, twice won the NBA's Executive of the Year award but has fallen on tougher times in recent years.
The Raptors won just 22 games this season, missing the playoffs for the third straight season. Colangelo allowed Bosh to walk without receiving meaningful compensation in return and then had a hissy fit in the media, blasting Bosh for not playing through injury.
He also inked
Andrea Bargnani
to a big-dollar extension, a deal some have questioned due to Bargnani's weak rebounding and defense.
Let's also not forget that Colangelo paid an exorbitant sum to sign
Hedo Turkoglu
in free agency and, after one failed season, quickly moved to undo that damage by shipping him to the Phoenix Suns.
His other big move this season was acquiring promising combo guard
Jerryd Bayless
, who continues to show flashes but probably isn't a franchise building block going forward. On the plus side, he has drafted two promising youngsters --
DeMar DeRozan
and
Ed Davis
-- but patience is a virtue in both cases.
Really, it's felt like Colangelo has been spinning his wheels for a few years now. With a weak draft this year, and three large contracts already on the books -- Bargnani,
Jose Calderon
and
Leandro Barbosa
-- Colangelo has his work cut out for him if he hopes to meaningfully improve this team next season.
Best of luck, Raptors fans.