Posted by
Ben Golliver.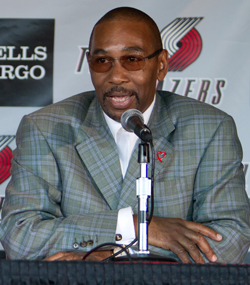 Every month or so, it's a good idea to check in with the Portland
Trail Blazers
to get the latest update on their lack of progress towards hiring a general manager.
Thursday's news:
The Oregonian reports
that the GM search, which included
interviews with more than four candidates
, none of whom spoke directly with owner Paul Allen, will start over from scratch.
A league source said the Blazers have decided against hiring any of the candidates they have interviewed to date and that Blazers president Larry Miller spent Thursday calling them to relay the news they were no longer being considered for the job.

"I don't want to get into specific details, but what I will say is that we are expanding our search," Miller said. "We're going to expand our candidate pool."

Miller refused to divulge the people he has interviewed. He also would not detail any of the names on his new, expanded list. But The Oregonian has learned that former New Orleans Hornets GM Jeff Bower and Philadelphia 76ers GM Ed Stefanski will be among the targets.
Since firing former GM Rich Cho back in May, less than a year after the team's previous GM, Kevin Pritchard, was fired on the night of the 2010 NBA Draft, the Blazers have taken a number of unusual steps. They promoted their director of college Chad Buchanan to an "Acting GM" role, then later informed him he would not get to keep the position full-time. They interviewed a group of assistant GM candidates but apparently were unable to identify a favorite and decided to scrap that route.
Keep in mind: the Blazers currently have Cho's two assistant GMs under contract and two heads of scouting that date back to Pritchard's reign. All four men specialize in player evaluation and the team's front office lacks anyone with extensive experience negotiating contracts, an inside-out understanding of the collective bargaining agreement and experience planning and managing the team's salary cap. Those are huge holes. President Larry Miller has taken on some of those duties in the past, although he is supposed to be primarily responsible for overseeing the team's business operations.
After all this time, the Blazers are now turning their attention to former GMs, candidates that obviously boast a greater degree of executive experience than their previous candidates and would likely fit Portland's needs better than most first-time GM candidates. Why did it take Miller and his staff this long to hone in on experienced candidates? Who knows. He's failed to divulge his candidate targets from the beginning of the process, so it's difficult to say for certain. There is, of course, the obvious financial explanation: not hiring a GM saves the cost of at least one salary during the lockout, and multiple salaries if the GM is allowed to bring along one or two hand-picked subordinates.
Make no mistake: Bower and Stefanski are not A-list candidates. Bower most recently served as GM of the New Orleans Hornets but was pushed out in the summer of 2010, amidst rumors of star point guard
Chris Paul
's unhappiness. Stefanski has been the GM or president of the Philadelphia 76ers, who are recently under new ownership and reportedly considering a change of direction, since 2007. Prior to that, he was GM of the New Jersey
Nets
, where he had his most success.
Regardless of who gets the job and when, the new GM will be answering to both Miller and Allen, a demanding, eccentric and rash billionaire who is prone to impulsive decisions. Allen's expectation is a deep playoff run and it's unclear whether any candidate -- no matter how supremely talented -- can last more than a season without delivering at least one playoff series victory, something Portland hasn't managed since the 1999-2000 season, the longest such drought in the league.
Miller recently told CBSSports.com that he "hopes" to have a GM in place by the end of the lockout, but he stopped short of guaranteeing that, saying instead that the Blazers could make do with Buchanan heading up the rest of the staff as a stopgap measure.
For a team that annually has sky-high internal expectations, the Blazers sure seem to enjoy setting themselves up for failure recently.