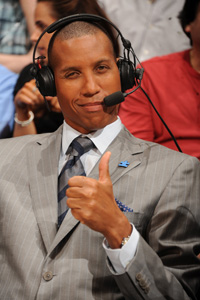 Reggie Miller leads the 2012 Naismith Hall of Fame class of finalists.
(Getty Images)
By Matt Moore
The
2012 Naismith Basketball Hall of Fame candidates were announced
Friday at an event during All-Star Weekend. The candidates are as follows:
Reggie Miller:
Last year's big exclusion. Miller held the record for all-time made three-pointers until
Ray Allen
broke it last season. Miller should be in by a mile. Miller finished his career as a 47 percent shooter despite being a three-point expert, where he was a 40 percent career shooter. He averaged 18 points, 3 assists, and 3 rebounds during his 18-year career.
Mo Cheeks:
Played eleven years for the Sixers and is currently an assistant with the Oklahoma City
Thunder
after head coaching stints in Portland and Philadelphia. Another logical nominee, Cheeks was a four-time All-Star, a four-time NBA All-Defensive Team member, an NBA Champion in 1983 with Philadelphia, and lead the league in field goal percentage in 1975.
Bernard King:
Four-time All-Star, four-time All-NBA, finished second in MVP voting in 1984. Averaged 23 points and six rebounds on 52 percent shooting during a fourteen-year career.
Bill Fitch:
Two-time NBA Coach of the Year, NBA Champion with the Boston
Celtics
in 1981. 25 years of coaching in the NBA, including 944 wins, one of the true legends in coaching circles
Dick Motta:
NBA Champion in 1971 with over 1,000 victories at various levels of play.
Don Nelson:
Nelson is also not going to have any trouble, considering he has the most wins of any coach in NBA history. A .557 winning percentage over 2,398 games across over three decades in the league? Yeah, I'd say Nellie's good to go.
Hank Nichols:
Long-time official and "rule architect."
Rick Pitino:
Well, this is an NBA blog, so we'll leave that one alone and
leave it to our Eye on College Basketball brethren
.
Jamaal Wikes:
Four-time NBA champion, three-time All-Star, two-time All-Defensive team (second team). Career averages of 16 points and six rebounds on 50 percent shooting.
Ralph Sampson:
Three-time Naismith Award and National College Player of the Year Award winner. His work at Virginia is the stuff of legend. Three-time NBA All-Star.
Katrina McClain:
Two-time Olympic gold medalist and three-time FIBA gold medalist. Two-time USA Basketball female athlete of the year.
All-American Red Heads:
The
female version of the Globetrotters, basically.
Many worthy candidates this year, but it also looks like the process for induction will be different next season. More on that in a bit.