The Spurs were ousted in the first round and everyone's begun the funeral song. But why does this feel so different than previous Spurs failures?
Posted by Matt Moore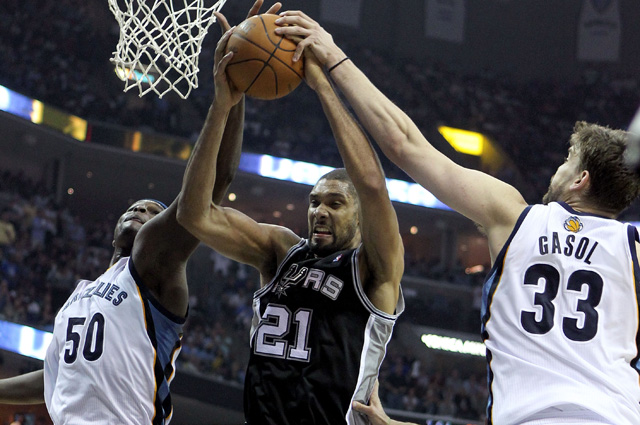 Maybe they'll come back. After all, they did win the most games in the West this season. They still feature three Hall of Famer players and a Hall of Fame coach. Maybe it was just lightning striking four times out of six in the same place. Maybe it was just Manu's elbow, or Duncan's knee, or fate or the Basketball Gods, or whatever.
But it doesn't feel like it.
There will be many, many eulogies for the Duncan-era Spurs in light of the
Grizzlies
' stunning first-round series win over San Antonio. Spurs fans
will balk and guffaw
at these claims, because heroes never die to their fans, or because they've already accepted that the championship-era Spurs are over. They'll point to the fact that the Spurs haven't won a title since 2007 as reasons why all this talk of the end of an empire is silly and overdramatic. But that's because they're in it. They're living it, every day, reliving series against the
Lakers
and
Mavericks
and
Suns
while approaching each season with faith. It's different for those of us outside of the palace walls, because this series respresented something different. It wasn't that the Spurs lost. Most expected that in these playoffs. It was the realization they couldn't win.
The Spurs have lost in previous years but because the other teams had matchup advantages or a few things fell their way or the Spurs couldn't make the necessary adjustments. The losses didn't serve as judgment on the identity of the Spurs. To put it simply, the Spurs failed to win a championship because of other teams' ability to beat them, not fundamental flaws in the city walls that held the kingdom. This loss? To an upstart eighth seed without its highest paid player who tanked to play them, then took them out in the first game on their home floor and closed at every opportunity? Yes, the Grizzlies were better, and yes, they had matchup advantages. But there were moments where you expected the Spurs to do what the Spurs do and for that to be the difference. It wasn't.
Tony Parker
struggled with
Mike Conley
attaching his dribble.
Manu Ginobili
suffered when the Grizzlies responded to Ginobili's quickness by backing him down in the post. And
Tim Duncan
just plain struggled. The greatest power forward of all time found himself overwhelmed by a 26-year-old quick-footed center who is most commonly known as "Pau's little brother."
Marc Gasol
is a really great player, a future star in this league, maybe one now, after this series. But the Duncan that defined those teams would have tore him to pieces from mid-range with the bank-shot-straight-up. The Manu Ginobili who defined the mid-oo's run for the Spurs would have called timeout to reset the offense with the final possession of Game 3. The Tony Parker who won Finals MVP would not have had his play so thoroughly undercut by an attack on his handle.
But beyond the Big 3? The Spurs of old would never have relied on the 3-pointer this way, would never have had to cover for a gigantic flaming neon defensive red target like
Matt Bonner
just to space the floor, would never have had to rely on
Gary Neal
and
George Hill
's mid-range jumpers to fall. They would have fallen back on clutch plays and defense, always defense. The Spurs' empire isn't over because their players got old, that's been happening for a long time and in reality, the team is pretty young. The Spurs' empire is crumbling because what made them the team you couldn't count out, now has become the very thing that makes you not that shocked at this shocker. A mediocre defensive club falls to a better one, a team that relies on an aging Tim Duncan is toppled by younger, more spritely bigs, the squad that allows Matt Bonner on the floor defensively is beset by easy scores and foul trouble when Matt Bonner can't contain his man in the post. There's nothing shocking here, not if you've been paying attention.
Afterwards, Gregg Popovich was his usual self. Congratulatory to Memphis, classy in defeat, dismissive of dramatics like the question of the end of the Spurs' run. If they go out, they go out on their own terms. The franchise that defined class, humilty, and above all, excellence, would not go out in a pitiful blow-up of egos or blame. They simply hugged their worthy opponent, packed their things, and headed home.
Spurs fans may have already come to terms with the end of an era, or rationalized that there will be no end, only a transition. But for the rest of us, the Grizzlies' shock of the world serves as a reminder of the mortality of dynasties. It's not just that the Spurs lost a first-round series to an 8th seed. They lost to a team more willing to grind, more willing to defend, more able to close. What is it about these Spurs that make them seem so far removed from what defined those great, inevitable Spurs teams? Just think back to what we saw from the upstarts, the team that simply wanted it more. That's what means the empire has reached its end.