Posted by
Ben Golliver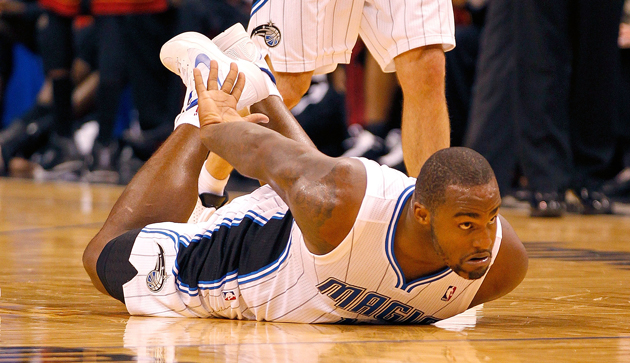 Davis has been suspended for two games following an 'outburst' at a team shootaround.
(Getty Images)
Big Baby is headed for timeout after throwing a tantrum.
The Orlando Sentinel reports
that reserve forward
Glen Davis
has been suspended by the team for two games after an "outburst" at the team's shootaround on Friday.
The Orlando Magic have suspended power forward Glen Davis for tonight's game against the Cleveland Cavaliers and Saturday's game against the Indiana Pacers because of what team officials are labeling "conduct detrimental to the team."

Davis had an outburst during the team's shootaround this morning at Amway Center as the team went through some of the Cavaliers' plays on the team's practice court. Davis and coach Stan Van Gundy ultimately got into an argument. Van Gundy would not discuss many of the details of what happened, but Van Gundy and a witness said the disagreement never turned physical.
Yahoo Sports tweeted
further news and a statement from John Hamilton, Davis' agent:
Glen Davis to meet with Stan Van Gundy & GM Otis Smith on Monday after serving 2-game suspension, source says. GD & SVG got in heated argument at morning shootaround.

"I'm confident Monday they will move forward. Glen's frustrated, disappointed & wants the team to be successful,"agent John Hamilton.
The Magic will play host to the Cavs on Friday, then travel to Indiana to face the Pacers on Saturday. Assuming the suspension is not extended, Davis should return to the lineup Monday night, when the Magic host the
Clippers
.
There has been no shortage of antics from Davis during a strange season for the Magic, which has been marred by All-Star center
Dwight Howard
's trade demand. In January, Davis was whistled for a technical foul for
taking off his shorts during a game
while protesting a foul call. That came less than two weeks after Howard
pretended to defibrillate
Davis as he lay on the baseline.
Davis, 26, was acquired in a preseason trade from the Boston
Celtics
. In the 22 games he's played this season, he is averaging 7.3 points and five rebounds in 22.3 minutes per game. The Magic have lost four of their last five games and are 13-9 on the season, sitting in third place in the Southeast Division standings.