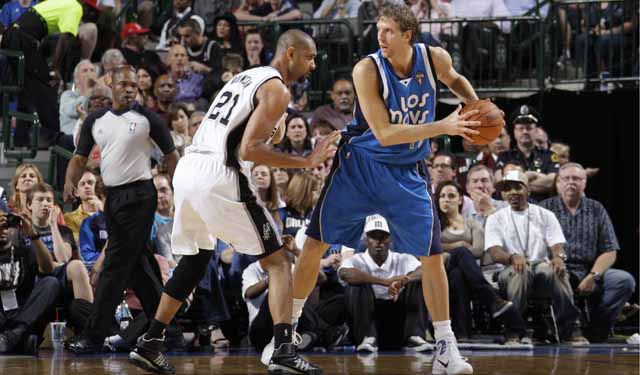 By Matt Moore
The
Mavericks
and
Spurs
have had some titanic battles through the course of the past decade-plus during this time of contention for both teams. For the first time, we would be seeing the Mavericks as the defending champs, as the team that figured things out, while the Spurs are the team that couldn't put it together, who fell apart at the wrong time.
These battles are precious. We're only going to see
Dirk Nowitzki
go at
Tim Duncan
so many more times as both head towards retirement. Already Duncan is not the player he used to be, as
Manu Ginobili
and
Tony Parker
take more of a role. But it's still Duncan vs. Dirk, Parker vs. Jet, Manu vs. well, whoever the Mavs put on him. The Mavericks now have the bruisers inside,
Tyson Chandler
and
Brendan Haywood
, while it's the Spurs with the defensive sieves in
DeJuan Blair
and
Matt Bonner
.
This game would still be a huge clash of juggernauts, though, especially with the shooters on each side. Both teams had titanic offenses last week, while it was only the Spurs who ran into the iceberg against Memphis.
Jason Kidd
against Tony Parker is a smarter matchup than it seems, while
Kawhi Leonard
would be facing
Caron Butler
in a past-face-present. It would have all the rivalry that Texas teams demand, and the drama of a battle between two teams with five championships and six Finals appearances over the past twelve seasons.
And we get none of it.
Today is Day 127 of the NBA Lockout.