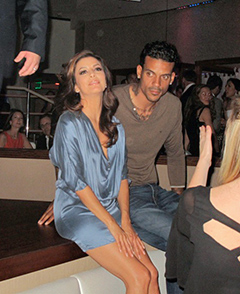 Posted by Royce Young
Don't worry you guys,
Matt Barnes
is going to clear this all up. He's totally not dating Eva Longoria. Wait, people thought he was dating Eva Longoria?
Evidently they did because of a bunch of pictures of the two hanging out in New York City.
Longoria has already denied
it but now it was Barnes turn.
Via Sports Radio Interviews
, Barnes was on 95.7 The Game in San Francisco and the last question he was asked was about that:
"Eva and I are friends. We are working together. She has an amazing cancer foundation as well, so we are working together and setting up an event for 2012. I know everyone likes to read and everything and hope or talk bad about situations, but Eva and I are just friends."
If somehow you weren't aware, Longoria divorced from
Spurs
point guard
Tony Parker
last year. And it's a relief to know Longoria and Matt Barnes are friends. Because Barnes isn't exactly the type of guy you'd picture following Tony Parker. Or maybe he is. Go from the clean cut Frenchman to the tatted bad boy.
I just realized what I'm writing about. End this lockout please.
Barnes was asked about that and gave the response we've heard roughly 2,000 times from every player who has been asked:
"Man I hope so. I hope so. It's starting to be that time now where everyone is itching. We are supposed to be playing now. Earlier in the summer we were supposed to be on vacation and now the ball is supposed to be tipped up. I think everyone is starting to itch a little bit, so I hope so."
I hope so too so I can go back to not caring about your personal life.