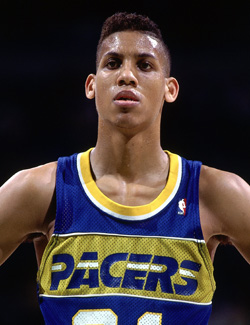 By Matt Moore
Indiana won't have Larry Bird to kick around forever. (And by "kick around" we mean "revere and overlook mistakes for.") Bird has made strong hints in the past that he's headed out the door sooner rather than later, despite having committed to the 2011-2012 season (should there be one). And in that instance, what's the plan for who takes over the Good Ship
Pacers
? Yahoo! Sports reports that a familiar face could be the next to helm the franchise.
Simon has been canvassing people he respects – including his longtime former general manager Donnie Walsh – for opinions about how they believe Miller would do with the transition from television to management. Several people with longstanding ties to Miller and the Pacers are pushing Miller to pursue the job, and as one tells Yahoo! Sports: "He's going to look hard at this, if it's presented in the right way."

Simon has considered this possibility for several years, sources said, and thinks the timing could be right to groom Miller to run his basketball operations. This is likely Miller's one chance to ever run a team. And where else would he rather do it, but in the city, the state, where he became basketball royalty?
via
Pacers owner eyes Miller to run team - NBA - Yahoo! Sports
.
Miller's not a popular announcer, often thought to provide too many obvious or goofy comments. But in Indiana, he's god-like. Miller has a number of things going for him which would make this a smart move. For starter's, he may not be popular with the players but he'll have their respect, as either an all-time great the kids are familiar with or as a player many veterans played with or against. He obviously has pretty good leadership skills, and a high-character roster is something he'd value, which is incredibly important for fans in Indiana, apparently.
But Miller doesn't hae any experience with the job. He may be fully familiar with the workings of the CBA (since everyone's probably starting from scratch on the next one anyway), but there's still a learning curve. One thing that might help with that? Yahoo! reports that Simon the Owner is interested in bringing back Donnie Walsh, currently advising the New York
Knicks
after getting sick of dealing with everything Knicks-related (and New-York-media related, it seems). Walsh could give Miller the guidance necessary to become a great executive. It would be good for Pacers fans, good for Miller, and good for those that aren't a fan of him on the mic. Whether it works out is of course the bigger question.