By Matt Moore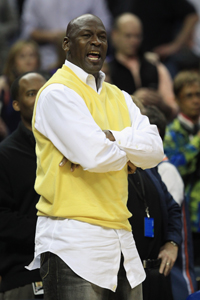 Michael Jordan wants to work harder as an NBA owner. (Getty)
BOSTON-- At the
Sloan Sports Analytics Conference
Friday morning, NBA Deputy Commissioner Adam Silver was asked about the impact of the new Collective Bargaining Agreement and how it's impacting the smaller market teams, specifically the Charlotte
Bobcats
. His response was telling about both the Bobcats and the new CBA in regards to how the league has sold the deal to him. Specifically, Silver pointed to ownership and the role it plays in market dynamics.
"Michael (Jordan) has assured us that he's working harder than he ever has in his life & playing less golf," Silver said. Jordan's Bobcats are 4-29 and approaching historic levels of failure. Jordan has often been criticized for heading to the links and taking a passive approach first as minority owner and then later as majority owner.
Silver noted that the new CBA has put teams in a better position to succeed
with good management.
Rich Cho is in his first year as GM and the rebuilding plan is very early in its infancy. Having a dedicated staff and ownership working in unison is the only way they're going to escape the gravity of their mediocrity which has only yielded one playoff appearance in team history.
Silver also referenced the attendance success when the
Hornets
were located in Charlotte as evidence that the market is viable, while also admitting that small market teams will continue to struggle due to the alignment of market factors. Contraction is talked about a lot in regards to the Bobcats, but every indication from the league is that both the current and former Charlotte franchises (the Hornets) are both safe for the time being.