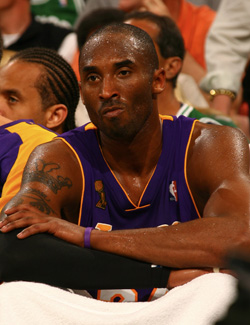 Kobe Bryant misses shootaruond with "aches and chills" and is a game-time decision against Bobcats.
Posted by Matt Moore
Kobe Bryant missed shootaround Monday with "aches and chills" according to
Lakers
.com:
Kobe Bryant missed his team's Monday morning shootaround in Charlotte with "aches" and "chills," according to the Lakers' PR staff, and will be a game-time decision for a 4 p.m. Pacific tip against the Bobcats.
Phil Jackson said he'll just have to wait and see how Bryant feels in advance of the game before determining his status. Of course, since he is the same Kobe Bryant who generally plays through everything, many of his teammates expect him to play.
via
Bryant Under the Weather in Charlotte « Lakers Blog
.
It's yet another piece of rough news in regards to the Lakers facing the Bobcats. the Lakers are 2-4 since 2007-2008 against the 'Cats. In those six games, Bryant has averaged 25 points per game, but has shot just 40%, including a 2-12-shooting, 5-points performance last February that actually netted a win for the Lakers. So maybe Byrant missing the game isn't the absolute worst thing that could happen.
Then again, Bryant will typically play through anything, and trying to keep him off the floor is something that requires a crowbar and several security personnel. The possibility for a "Flu Game" is what the media will be looking for, even though in general, no one plays well when they feel sick. Because they feel sick. That's what makes Jordan's "Flu Game" so legendary.
The Lakers could use a win tonight, though, after dropping yesterday's game to Orlando. The four game road streak had everyone feeling better about L.A. A two-game downturn would dampen that enthusiasm somewhat, even with the "
just missed shots
" feel of the Orlando loss and this one possibly without Bryant. The good news is they play Cleveland to end the trip, so that's pretty much an assured win.