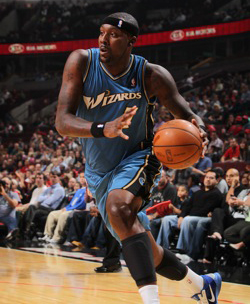 Andray Blatche will reportedly be sidelined 3-5 weeks with a calf injury.
(Getty Images)
Posted by
Ben Golliver
It's not every day that a team's second-highest paid player goes down with an injury for 3-5 weeks and everyone wished that the doctor had said "months" instead of "weeks." But Washington
Wizards
forward Andray Blatche is not your garden variety second-highest paid player.
Wizards coach Randy Wittman announced that Blatche, who had dealt with a shoulder injury this season, now has a calf strain that will sideline him for an extended period of time, according to the Associated Press.
Wizards forward Andray Blatche will be out three to five weeks because of a strained left calf. Washington coach Randy Wittman made the announcement before Monday night's game against Chicago. Blatche was injured in Saturday's win in Charlotte. After an MRI exam, he was advised to stay off his feet.
The Washington Post reports
additional details.
Tightness in Blatche's calf kept him out of most of Saturday's 102-99 victory over Charlotte, and subsequent evaluation and MRI revealed the injury. Blatche played eight minutes against the Bobcats, scoring four points before the muscle tightened and forced him to the bench with his calf wrapped.

Blatche is the Wizards' second-leading rebounder and is averaging 10.3 points per game. Wittman said there "there is a lot of bleeding in there, which leads to inflammation" in the calf. Blatche stayed home from Verizon Center, with doctors advising him to rest and take pressure off the leg.
This seems like bad news for a team that lacks both talent and depth, entering Monday night's play with a record of 4-16. On the contrary, this news really couldn't be better for the Wizards. Their message now should be: just stay home.
Eliminating Blatche's toxicity from the equation is a must if Wall is ever to fully blossom. Blatche has
put his name on a "Lapdance Tuesdays" strip club
promotion, he's
called out
Wizards fans, he's
punched teammate
JaVale McGee
on Christmas Eve, he's admitted to
being out of shape
, he's
publicly beefed with former coach
Flip Saunders, he gets booed by the home crowd on a regular basis and his player efficiency rating is a pathetic 11.57, placing him 60th (!) among power forwards, thanks in part to his disastrous 38.0 percent field goal shooting. That is the definition of "all bad."
If the Wizards are prepared to salvage the
John Wall
Era, and they should be after firing Saunders, the gameplan should be to buy out
Rashard Lewis
from the last year of his contract as soon as legally possible and waive Blatche using the amnesty clause. Their payroll would bottom out and allow them to re-sign any of this year's players who are heading for free agency (
Ronny Turiaf
,
Nick Young
, McGee, etc.) that they deem worthy while also allowing for multiple external free agent signings.
No one is going to trade for Blatche, given that he's on the books with guaranteed money through 2014-2015 and his reputation is well-known. Waiving him via amnesty will be an expensive pill to swallow but it's well past time for the rest of the Wizards to move on with their lives.
Sticking with Blatche in hopes that he finally gets a clue and realizes his potential is so much less important than ensuring Wall has the right environment to reach his.