Indiana Pacers forward Danny Granger calls Chicago Bulls center Joakim Noah a "dirty player." Posted by Ben Golliver.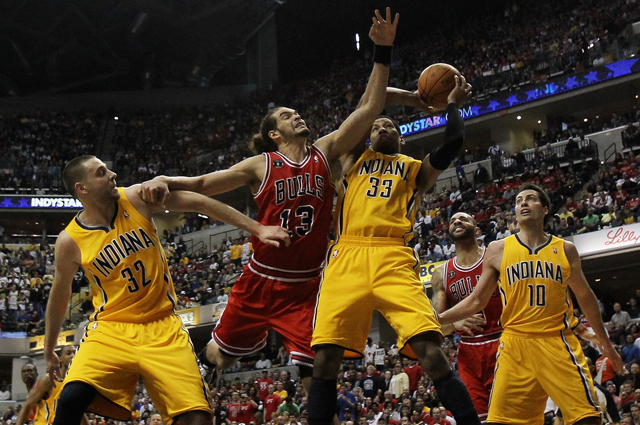 The Chicago Bulls
eliminated
the Indiana Pacers on Tuesday night but the Pacers did not go quietly into that good night.
No, Pacers forward Danny Granger, who
opened the series
by saying he thought the Boston
Celtics
were better than the Bulls, got in multiple shots at Bulls center Joakim Noah. Noah was involved in skirmishes with both
Josh McRoberts
and
Tyler Hansbrough
. McRoberts was ejected from Game 5 after retaliating to a Noah elbow.
Granger put it very bluntly
to the Associated Press
: "He's a dirty player, honestly."
ESPNChicago.com took down
Granger's extended comments.
"He pulled a cowardly move," Granger said. "He cheap-shotted a couple of my teammates, and one gets thrown out ...
"The refs never catch what he did ... it's cowardly. And I'm going to say something about it. I wanted to say something about it all the way to the game was over. I just don't think the game should be played that way. You can play hard and fight and battle, but when you start cheap-shotting people it gets out of hand."
Granger is developing a reputation for smack talk after
he threatened violence
against the Toronto
Raptors
back in March.
Look, to their credit, the Pacers were pretty much delusional throughout this series. They were convinced they could win, they played extraordinarily hard, they were badly outmatched and they didn't give up. It's a frustrating feeling to give it your all and still wind up short.
Obviously, the frustration boiled over here. For Granger, the frustration runs particularly deep because he's a third tier superstar in a small market with no hope of attracting a running mate. He's stuck and he knows it. This is his destiny: being bullied by the league's best teams year after year.
Even given those circumstances, though, there's no excuse. Go out the bigger person with your head held high. Be remembered for the right reasons, not the wrong ones.