Mitch Kupchak says not to worry too much about Magic's "blow it up" comments. But if not a complete self-destruction, is a major remodeling on the way,and how does a new coach fit into this?
Posted by Matt Moore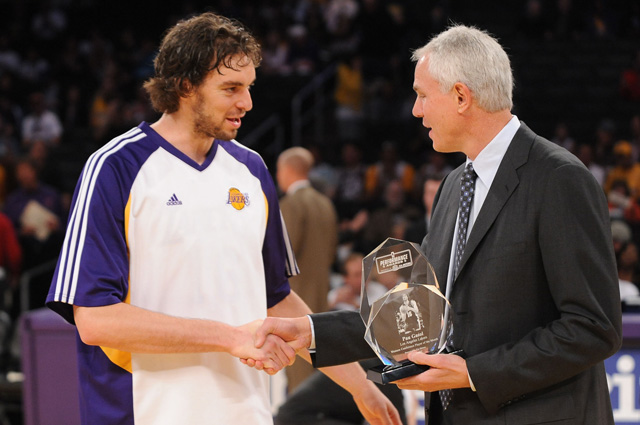 Sure, you were just swept out of the playoffs in what should have been the culmination of so much work, effort, and money spent in order to achieve a three-peat and send your expensive Hall of Fame coach out in style. Sure, your roster was relatively exposed as lackadaisical, lacking in focus, determination, heart, and eventually class. And yes, the idea has always been to reload when the shots don't quite hit their target, which is always championship gold.
But the
Lakers
? They're not looking to follow Magic Johnson's advice and blow it up. Not yet, anyway. And not completely.
From Sports Illustrated:
(Lakers GM Mitch) Kupchak cautioned against the idea that Johnson's recent comments on ABC were an early indication of things to come. The Lakers' legend had all but written his favorite team off during his television analysis, then recommended Kupchak "blow it up" by trading one of his frontcourt players for Orlando's Dwight Howard as a means to keeping the dynasty intact.

Jackson called the comment "unnecessary" before tip-off, while Kupchak largely dismissed the notion raised by some fans that it was an in-house sentiment being shared publicly. Howard is believed to be eyeing the Lakers as a possible landing spot when he becomes a free agent in 2012, however, meaning this storyline won't be going away anytime soon.

"I thought Earvin was trying to motivate our players," Kupchak said. "He's great at cheering for us, and a lot of times saying stuff like he said can motivate a player to play harder. That's how I took it.

"I talk to Earvin from time to time, and I think Dr. Buss [owner Jerry Buss] does from time to time, and this moves too quickly for him to be intimately involved in what's going on day to day, so I would hesitate to think that was the case."
via
Lakers fall apart against
Mavericks
in Phil Jackson's farewell - Sam Amick - SI.com.
Not surprising that Magic isn't plugged into the day to day ops, especially having sold his stake, despite retaining a front office position. But the question is whether the Lakers are correct in this train of thought. One issue that isn't being talked about here is pretty obvious. This roster was constructed to play for Phil Jackson.
And that definitely won't be the case next season.
From ESPN:
Jackson might've played coy in what was likely his final postgame press conference, joking "I haven't answered that, have I?" when pressed for a definitive statement on whether he'd coached his final NBA game Sunday. But Kupchack says he believes Jackson's decision to retire is final this time.

"I think this is it," Kupchak told ESPNLosAngeles after the Lakers were swept out of the playoffs by the Dallas Mavericks 122-86 on Sunday. "We'll sit down and talk, but I've gotten no indication that he won't retire.

"We just talked briefly and I thanked him for what he's done for the organization. It was a pleasure to work with him. Everybody who is a coach in this league works endless hours. I'm not going to say he works harder than any other coach in this league. He certainly works as hard as any of them.

"But he's different. He's got a feel that I think a lot of coaches don't have."
via
Los Angeles Lakers GM Mitch Kupchak senses Phil Jackson set to retire - ESPN Los Angeles
.
With Jackson gone, Brian Shaw is the favorite to get the Lakers' head coaching job. But after the abject meltdown that occured on a chemistry level, the job will probably be open to several applicants. ESPN also reports the job is "wide open" and with candidates like Jeff Van Gundy, Rick Adelman, and Larry Brown on the market, you have to think ownership will take a long look at its options. And if there is a change in the coaching line, the new coach will want players to fit his personnel.
The question of Dwight Howard will come back around again and again this summer once the CBA is resolved (if it's resolved). In case you missed it in the fall of Rome, here's Ken Berger of CBSSports.com on Howard and the Lakers:
Everybody knows that Dwight Howard wants to be a Laker," said a person familiar with the All-Star centers plans. "Theyre going to lose Dwight Howard for nothing. Hes not staying there. Dwight Howard is going to be in the same mode as LeBron James."

So would the Magic, facing the reality of losing their franchise cornerstone and getting nothing in return, accept Gasol and Odom, Bynum and Odom, or even Bynum and Gasol as the centerpiece of a Howard trade?"Probably," said a high-profile agent with a hand in past maneuverings for both teams.
via
Fast-approaching offseason critical for Lakers - NBA - CBSSports.com Basketball
.
Landing Howard would automatically put the Lakers back at the top of the contenders list, though they may be there anyway, even with the Dallas Meltdown. But it comes with its own set of issues, including giving the reins of a veteran club to a younger player. How's
Kobe Bryant
going to react to being the No.2 for the first time since the first W. Bush term in his final ride into the sunset? Will the Magic really want
Andrew Bynum
after he embarrassed himself, his family, and his organization with (another) needless foul that could have resulted in injury and will definitely result in his suspension for multiple games next year, along with his injury issues on a long contract?
There's time for all this, and the Lakers will take it. They are unlikely to "blow it up" and more likely to simply try and pick their favorite from the NBA's buffet as in year's past. But deals like the
Pau Gasol
trade don't come along twice in a four-year span, and with the franchise tag a possibility to come out of the CBA, life may be significantly different for L.A. after the seconds ticked off the Phil Jackson era in Dallas.
Things aren't as simple as pushing the "self-destruct" button and starting over. Even Athens fell, and an immediate return to glory isn't always guaranteed for those blessed by the Gods for so long.
But I wouldn't bet against them.