Posted by Royce Young
After dropping in his seventh 3-pointer early in the third quarter, Team USA's star backpedaled down the court shaking his hand with three fingers out. It wasn't the Jordan shrug, but
Kevin Durant
knew he had something going. And he knew his team was closing in on a big moment.
With two daggers right out of the locker room after a massive first half, Durant brok the backs of his opponent early, and he did it swiftly and efficiently. And for the tournament's MVP, anything less would've been a surprise.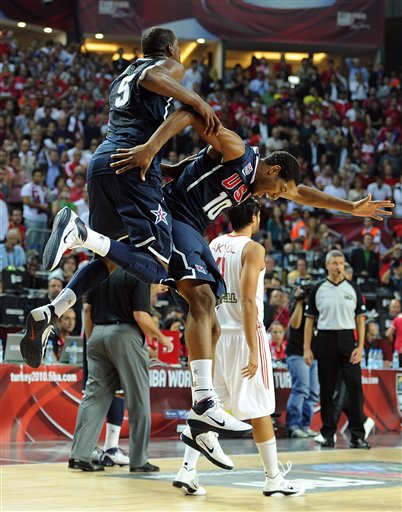 In a game in front of one of the most hostile, vocal and rabid atmospheres you'll find anyway, Durant dropped a game-high 28 points on 10-17 shooting (7-13 from 3), leading the United States to its first World Championship gold medal in 16 years with a 81-64 win over host nation Turkey.
And the U.S. had to have Durant to lean on once again. Team USA held a lead from nearly the outset, but it was on the shoulders of the man called Durantula. Consider: In the first half, the U.S. went 6-22 from 3. Durant went 5-9 by himself. So if you do a little math there, that means the rest of Team USA sans Durant went just 1-13 from deep in the first 20 minutes. The team had 42 points and Durant had 20 of them.
Out of the locker room, Durant picked right up where he left off, popping two deep ones to extend out an 18-point lead for the States. But from there, his teammates started to step up.
Lamar Odom
had 15 points - all in the second half - and 11 rebounds.
Derrick Rose
finally found his offense scoring eight second half points.
Thunder
teammate Russell Westbrook added 13 huge points. And that's not including the stellar defense from players like
Andre Iguodala
and
Eric Gordon
. It may have been the Durantula Show early on, but the tension relaxed a bit because the rest of the red, white and blue picked things up.
Turkey had no match for Durant on either end.
Hedo Turkoglu
led the Turks with 16, but after that, no one scored in double-figures. And because of the athletic mismatches the U.S. presented for Turkey, the host nation had to go to a matchup zone for the majority of the game, something Team USA ate up. Well, something that Kevin Durant ate up.
Turkey, known as the "12 Giant Men" to their countrymen, played hard for the entire 40 minutes. They just didn't have the horses. The Turks desperately needed someone to step up huge, but players like Ersan Ilyasova and
Omer Asik
were held down by a swarming, intense U.S. man-to-man defense.
An underrated aspect of this victory is that the U.S. doesn't have to qualify for the 2012 Olympics during a time where NBA players might not be available because of a lockout. But I can promise you the States' own "12 Giant Men" don't give a darn about that. This is about that thing hanging around their necks. This is about the pride of doing something for your country that others before haven't been able to accomplish in 16 years.
Now this group of 12 will get on a plane and make a long trip home back to the States. Training camp starts in two weeks and by that time, the high from this tournament will have started to wear off. Players will return to their teams and return to their old roles. They'll go back to be the stars and main men for their NBA squad. They'll go back to playing for a city, a fan base or a contract, not their flag. Things will go back to normal, but these last 25 days in Turkey won't be something easily forgotten.
Some may try and kill the buzz by pointing out a the tournament's talent was watered down, that the U.S. is always a favorite and we didn't get anything unexpected or that Turkey wasn't a worthy opponent to play for gold. But it's been 16 years since the United States has heard the Star Spangled Banner at the World Championships. This is something special. And something that these players will always remember being a part of.