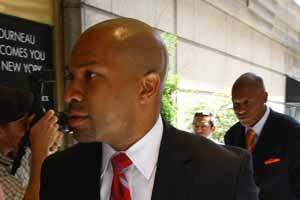 By Matt Moore
On Sunday, reports surfaced that
Derek Fisher
had texted certain players
to advise them to be in shape for a possible season, signaling optimism regarding a resolution to the lockout talks. It wasn't a monumentous development but it was something positive.
So much for that.
On Monday, Fisher took to Twitter to deny the reports regarding his texts. The you from ten years ago has no idea what we're talking about here. From Fisher's Twitter account:
While the reports of my texts are false, I will say that I have & will continue to urge our players to stay ready for a season.
via
Twitter / @derekfisher: While the reports of my te ...
.
Fisher followed up by Tweeting that the players "want to go back to work." Which is true but missing a caveat. A more accurate statement might have been "We want to go back to work (provided we don't have to surrender any more money than we feel we should have to)." Perhaps an even better one would be "We want to go back to work (for the exact same percentage of total BRI we had under the last deal before the global economic collapse," or "We are willing to go back to work if the deal works out for us."
It's no surprise that Fisher denied the report. Standing by it gives the owners more leverage and each side is scraping for every inch they can control at this point. It's a denial and should be treated as such. If the report was false, Fisher would deny it and if the report were accurate, Fisher would deny it. For now, pay attention to how much Fisher in particular is trying to slow the roll on the upswing of optimism in the past week. Every public indication is that Fisher does not believe the two sides are any closer to a deal. The only real indication of that trend will come on Tuesday, should the owners elect to provide the players with a proposal. A decision not to provide a counter-proposal indicates no movement from the owners' original position, a steadfast maintenance of the hard line that lead to the lockout. Likewise, a proposal that moves at all towards compromise likely means a move towards the inevitable conclusion of this saga, in which the owners get a massive retrieval in terms of revenue and the players avoid getting completely routed.
The fact that so much of this is occurring on Twitter is kind of amusing, if admittedly also a sign of the times.