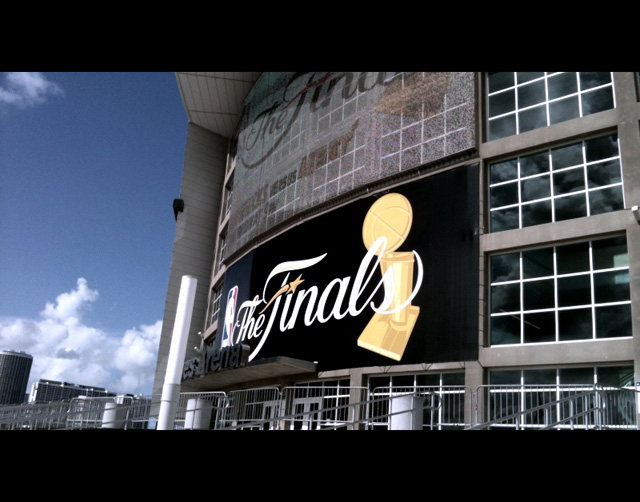 Posted by Matt Moore
Here are your NBA Finals Headlines for Tuesday morning before Game 1.
Ken Berger
likes the Mavs in seven
, but
we here on EOB think
the
Heat
take it. Most experts are leaning Heat, predictably. The most logical answer is that this will be a long series and it's going to come down to heart/a few bounces. Of course, after the season it has been, logic and reason can be tossed aside.
KB also chimes in to let you know that even if Dirk doesn't get that jewelry,
his legacy is secure
. Nowitzki holds an extremely niche title: "Greatest 7-foot pure shooter in NBA history." But that just makes his standing that much more unique. There will be other players like
LeBron James
, just not as good. There will be other players like
Dwyane Wade
, just not as good. There will be other players like
Chris Bosh
... and probably better. But there will never be a player like
Dirk Nowitzki
again. A 7-footer with that kind of range, that kind of touch, and that kind of longevity? He's in a classification all his own. We get to see him on the biggest stage for at least four more games (if not more). Enjoy it.
The
Palm Beach Post goes over
the Heat's drama-filled year through a review of the different "gates" they've gone through. A personal favorite is Bump-gate.
Remember that one
? A half-second moment of contact with a player coming off the floor is supposed to be indicative of a lack of respect for a coach who Dwyane Wade has supported for three years. Got it. The Heat have certainly caused themselves the majority of their drama. But everything has also been overly analyzed not just by the media, but by fans. And they still managed to get to this point. Spoelstra told reporters that "Bump Gate" was influential i
n creating a bond
between James and Spoesltra.
Gregg Doyel
takes a look
at who's supposed to guard Dirk Nowitzki. I've got a hint for you.
Udonis Haslem
did a much better job in 2006 than anyone is remembering and has the perfect size and skillset for it. Is Dirk going to get his? Absolutely. But Haslem will make him work for it, and that's all you can do.
Dywane Wade
opened up media availability yesterday
by saying "I'm not hurt. Get that out of the way, move on." There were a lot of questions about Wade's health due to his struggles in the last two games against Chicago, even with his late-game bursts. The reality is he probably is hurt, but just not with anything significant or at least significant enough to keep him out. Cameras caught Wade icing down his shoulder and being massaged on the sideline. That's nothing out of the ordinary for NBA guys, but it was the timing, urgency, and manner it was done that drew raised eyebrows. Something to keep an eye on, because the Heat need Wade to not only be healthy enough to score, but be able to draw contact.
The Heat shot just 13-45 against Dallas' zone this year,
according to ESPN
. That's an interesting set of digits right there. The Heat aren't a great cross-court passing team, the best way to beat the zone, primarily because they get too flashy and try to do too much with the ball. They need shooters to knock down shots to get Dallas out of that.
The
South Florida Sun-Sentinel
takes a look at some of the things that were said
about the Heat, in a negative context, leading up to the NBA Finals, all the way since preseason.
Zach Lowe of SI
brings up an interesting point
. If Barea is on the floor with Miller, he lacks the size to guard the Heat shooter. Will the Heat post Miller? It's an unorthodox concept but anything the Heat can do to get Barea off the floor will help and anything they can do to force a double off someone other than the Triad will create juicy opportunities for them.
Jason Terry
will
have his trophy tattoo removed
if the Mavs don't win the title this year. That's just sad to hear.
Ben Golliver
notes in the Playoff Fix
that the
Mavericks
struggled with
LaMarcus Aldridge
this year. When you consider the damage that
David West
has done to them in the past, you start to notice the Mavericks have some issues with stretch fours. How's that going to jive with Chris Bosh doing damage from mid-range. Once again, as it has been all year, the pressure resides with Bosh to make some things happen for Miami.
We'll have coverage from shootaround this morning before Game 1 and our LiveChat kicks off at 8:30 p.m. EST. Join us!